Customer experience has always been an integral part of businesses. Right now, we are on the brink of experiencing a revolution. CX is not changing, but its value is stalling as fundamentals are insufficient for differentiation and growth.
With the pandemic creating potential shifts in customer preferences and customer service, the standard for CX is rising further. Thus, businesses need to learn how to meet heightened expectations and satisfy customer tastes.
What is CX?
CX – customer experience encompasses everything that influences the way a customer feels about the brand. It's every interaction they had with your business starting from the first ad they saw to a recent call with customer support and everything in between.
CX impacts customer satisfaction, loyalty, and retention. It helps businesses understand customer expectations and deliver excellence.
Role of Customer Support in CX
As there are so many moving parts, maintaining consistency is challenging. Besides, sales, attractive UI, and marketing are only good for first impressions. After the deal is done, the customer is more likely to interact with the support team.
Hence, customer support plays a major role in crafting CX. Here's how the Salesforce customer portal helps them influence CX.
1. Track Customer Satisfaction
Salesforce customer portal allows you to gather feedback and analyze the team's performance and activities.
You can measure your support team's success by sending surveys after every interaction and gauging the ratio of favorable to a negative experience. Key performance indicators such as average reply time and time to resolution can also indicate the support team's efficiency.
Since they have close interaction with the customers, they can ask for feedback on the service and the experience. They also know what questions and complaints often arise and can add those in the FAQs for quick answers.
2. Handle Support Tickets
Customer service has undergone a huge transformation in the pandemic. While it was a key factor for most businesses, it became important recently as digital shopping became the new normal.
Most businesses saw a huge surge in support requests during the pandemic. And the Salesforce customer portal helped them handle spikes in tickets with automation and self-service. Instead of calling agents, customers are able to generate their tickets and even track their status.
65 percent of customers worldwide prefer buying from businesses that offer quick and easy online transactions. Thanks to the customer portal and features like live chat, chatbots, automated workflow, businesses are able to offer convenience.
3. Provide Instant Solution
Social isolation has brought a new meaning to the idea of "me time". People are learning new things and perhaps have become more open to new experiences. However, the level of patience has decreased dramatically. In addition to online shopping and services like same-day delivery and last mile delivery, customers now expect the support team to be available all the time and offer instant solutions.
So, the Salesforce customer portal provides customers with self-service. Instead of calling agents, they can browse through the knowledge base and refer to the relevant articles and documents. They can view video tutorials and FAQs for common queries. AI chatbots can help them with basic questions. It can redirect them to relevant FAQs or articles.
How Pandemic has Changed CX [Tips Inside]
Along with customer support, the pandemic has also inspired various CX trends. New support channels are emerging, and customers are shifting their allegiance while businesses adapt to meet those expectations.
1. Care for Customers in the New Reality
'When customers have a great experience with your brand, they are likely to come back and most importantly, share their experience with others.' This is common knowledge.
During a crisis, CX takes on a different meaning. Customers cling to businesses that show empathy and support. Thus, businesses need to level up their customer care tactics. It can be a one-hour emergency delivery service or as simple as a cash-on-delivery option. Here are a few ways to stay ahead of the curve.
2. Communicate
Build relations with your customers and maintain them. Make every effort you can to humanize the business.
For instance, you can provide in-chat options with third-party messaging app integrations in your Salesforce customer portal. Customers are embracing messaging to contact support teams. WhatsApp experienced a 40 percent increase in usage volume in 2020. Phone calls are overwhelming, while texting sounds convenient. This is why 33 percent of companies are allowing customers to contact support teams via Twitter and Facebook.
Here's Adobe offering customer support on Twitter.
By marking the whole art board for Zeplin export, does that make all of its asset content downloadable on Zeplin after export? @AdobeXD

— Tolúlọpé (@tolusaba) March 8, 2018
You can also provide community forums, live chat and call features for customer engagement.
3. Listen
Understand your customers' needs and utilize them to deliver a great customer experience.
You can do so by capturing valuable feedback through remote methods such as post-purchase surveys, customer support call feedback, ratings, and reviews, etc. Employee feedback, focus groups, digital customer analytics can also help you align customers' journey to the need of the hour.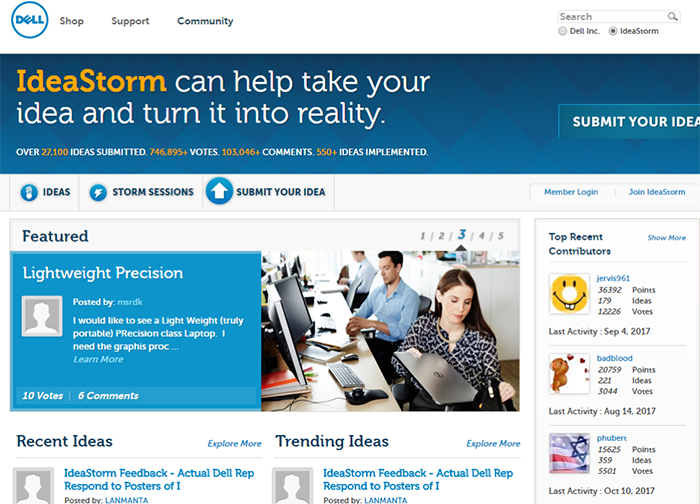 Source: myfeelback
Dell has a separate website, IdeaStorm, to collect feedback.
Customers' and employees' inputs will help you streamline your business operations. Salesforce customer portal helps you gather that data effectively and conveniently.
4. Exceed Expectations
Look for ways to better serve them.
Research on changing customer behavior. Provide solutions and keep evolving. Don't revert to the old ways of providing customer support. For example, if you have started online deliveries during a pandemic, keep it going. Instead, improve your delivery services by offering customers the freedom to choose delivery date and time, payment method, etc.
The advantage of a customer portal is that you can implement all the care-specific tactics with it. You can also customize and add various functionalities to it as the business expands. For example, add a search bar with an auto-search feature like Microsoft support to help customers find relevant articles quickly.
5. Meet Customers Where They Are
Take advantage of different channels. Be where customers are – if they prefer to chat, use messaging apps for communication. Multiple outreaches play a major role in closing a deal. But separate channels create an unfortunate siloing effect. Agents keep asking customers to repeat themselves, making the interaction frustrating.
However, an omnichannel strategy integrates multiple channels and provides a seamless experience. For example, an omnichannel messaging platform will allow users to transfer communication from social messaging to in-app or from email to any other combination.
Here are some ways to get the best of an omnichannel strategy.
a. Convenience
Your customers' life is only upended due to the pandemic. Provide them with digital tools that will help them move through the pandemic smoothly. Also, work on the UI and UX of the portal. It should be attractive and smooth enough to keep them glued.
b. Omnichannel approach
Be available on multiple channels as it fosters loyalty among the customer base. Track every customer interaction to understand customer behavior and improve service. The easiest way to disengage with customers is by asking them to repeat their needs to every customer service rep they encounter.
In simple words, if they have left an activity, say profile updating in the middle on the website, let them continue it from the app, right from where they left.
c. Right technology
The omnichannel approach alone can take you to subpar level. To go beyond, you need to be able to analyze and monitor data from every channel to see every employee has correct customer information and customers are satisfied with the experience.
Future of Customer Experience
You need to realize after the pandemic, businesses won't be returning to normal. The future is automation. In fact, this technology-driven self-service approach will become the new normal.
And with that, you as a business owner need to adapt to these changing customer expectations. As your customer experience strategy changes, so will the operational strategies. A digital solution that can manage customers and operations will be a great option. Here at CRMJetty, we know how to help you sail through uncertainties. We can help you with a custom Salesforce customer portal development.
If you want to know how it will help you in upselling, talk to our experts!
All product and company names are trademarks™, registered® or copyright© trademarks of their respective holders. Use of them does not imply any affiliation with or endorsement by them.