If there's one sector which is resilient, it's the travel industry. We can be certain that they will be back in full swing. The trick in the current situation is to reposition yourself and think creatively about what you can do to attract, convert, and retain customers. It can be about bringing health and wellness to the forefront with no-touch technologies like the one found at Chengdu Shuangliu Airport in China. They have kiosks that use facial recognition to help travelers check their flight status and find their gate.
Wow! China Airport face recognition systems to help you check your flight status and find the way to your gate. Note I did not input anything, it accurately identified my full flight information from my face! pic.twitter.com/5ASdrwA7wj

— Matthew Brennan (@mbrennanchina) March 24, 2019
Or, you can streamline your marketing and operational processes with travel portal development. It will help you streamline operations, reevaluate customer service, demonstrate empathy, earn customer trust, and improve inventory and products.
All you have to do is reposition yourself, understand customer needs, and develop a customer-centric portal. This article will guide you through the entire process of travel portal development – covering what, why, and how.
1. Introducing the Travel Portal
In layman's terms, a travel portal is an online engine that lets your customers come together and interact for information, bookings, services, and sharing experience. They can book flights, hotels, packages, and other related services, compare prices, seek help, and do a lot more.
Travel portal development is the process of developing that solution for your customers. It includes researching features and technologies, designing prototypes, developing the software, integrating tools, testing the compatibility, and displaying services in users' preferred way.
Travel agents are adopting this sustainable way. Let us find out why in the below section:
2. Why Travel Portal over Travel Website or Agents
Customer convenience, satisfaction, and retention are the reasons you should go for a travel portal. While your agents can offload some of your customers' tasks, the options they will be able to provide are limited. Besides, your customers have to visit in-person or call you for their bookings, which they can do anytime with a portal. Plus, they can browse through multiple options and manage their bookings and status themselves anytime with just a few clicks.
Your customers can book through your travel website. However, it is more about the information of your company, packages, and services you offer. A travel portal is customer-centric. It facilitates user experience and demands. The features are built from the customers' point of view. Take the knowledge base, for example. It provides your customers information about bookings and other information related to it. They can even solve their queries themselves. If I want to know more about the 'work from home package', well, I don't have to contact the customer support. Articles and FAQs related to the topic would be enough.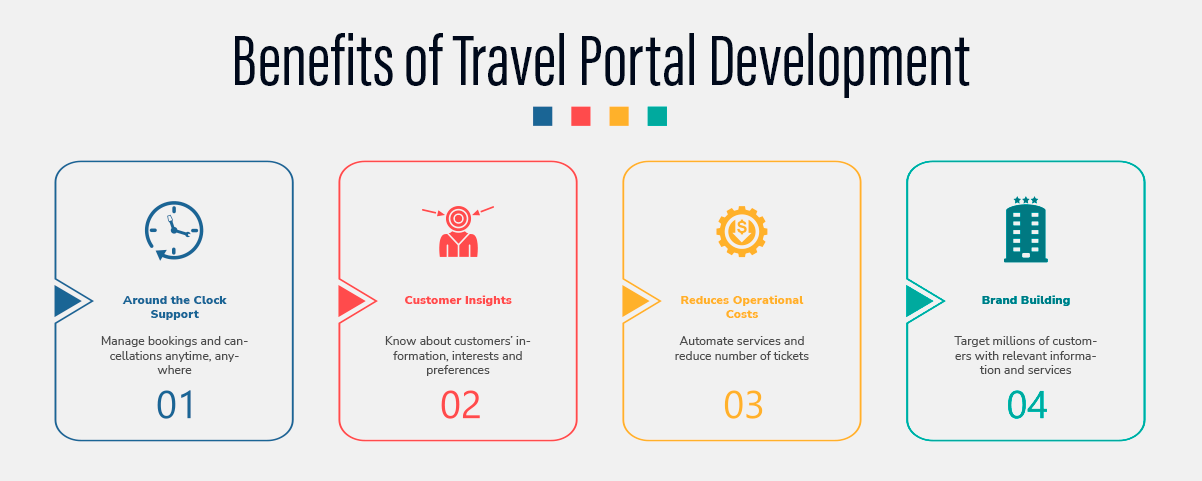 1. Around the Clock Support
You may have customers from different countries and time zones. You and your support team can't be available all the time. A portal acts as an online support rep that attends your customers 24*7 without a break. It helps them in a way they like, i.e., self serve. They can book anytime and even cancel their trips instantly without reaching out to you. If there's an urgency, the portal provides them with relevant information and features like chatbot.
Most importantly, travelers can collect the relevant data for their itineraries from anywhere in the world and anytime.
2. Customers Insights
Managing and tracking a large number of clients with antiquated ways is challenging. Portal offers a centralized solution where you can manage all the customers' information, interests, itineraries, and booking history. It also helps gather customers' data across all the digital touchpoints, which you can use to understand their needs and preferences. The data helps you provide customers with the packages they are likely to go forward with.
3. Reduces Operational Cost
As a virtual platform, travel portal helps you to save time and money spent on training, marketing flyers, brochures, and hiring the right people. It automates most of the tasks, taking off the burden from your support team. Next, self-service encourages your customers to help themselves. They can immediately find answers, which leads to higher satisfaction rate and reduction in the total number of tickets.
4. Brand Building
Building your identity is important for your business. With a portal, you can target millions of customers at one time. You can provide them with answers and services in the most convenient way. This is how you can draw the attention of potential customers, and increase your visibility and retention rate.
Travel portal makes your customers' life easier by eliminating the time wasted on browsing the web. Besides, the latest trends like AI, AR and VR are shaping the customers' approach towards travel. That is why most of the travel companies look forward to travel portal development.
If you're in the travel industry, developing a portal will be fruitful. And you can learn how to develop a feature-rich customer-centric solution in the below section.
If you need a quick answer and want to go ahead with the custom development, we can help you. Our team of experts will guide you in choosing the solution best suited for your business needs.
3. Approach to Travel Portal Development
Self-service features integrated with latest technologies like AI, AR and VR are shaping the customer experience. So, while undergoing the development process, the first step is to choose the type of portal you want to develop.
A. Types of Travel Portal Development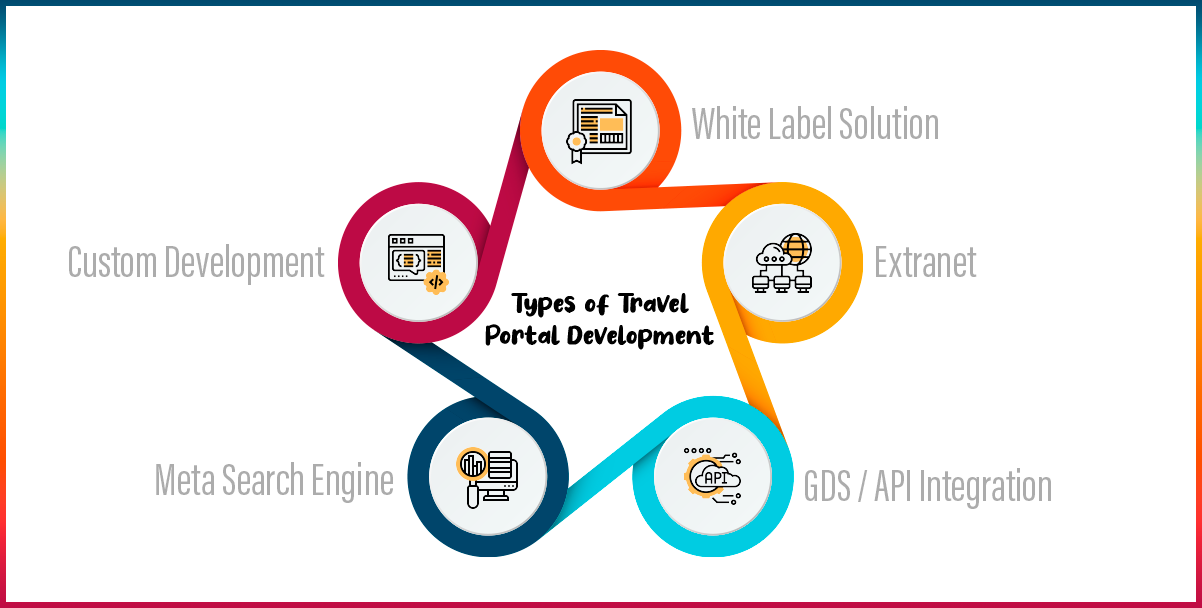 In practice, there are 5 popular types of developing travel portals for tours and travel industries including DMCs, and TMCs.
i. White Label Solution
This is a pre-developed portal solution with all the features and services integrated in it. You can just rebrand it as per your company's name, logo, and other highlights. In simple terms, it's a readily available solution that you can claim to be yours.
ii. Extranet
Extranets are a kind of CMS where you can manage content and inventories. You can use it for different services like hotels, flights, tours, buses, and more.
iii. GDS/API Integration
GDS is a global distribution system that provides bookers and suppliers with all the required information like live rates, flights, room availability, etc. Global distribution systems are used by Hotel & Flight Data API to offer travel-related services. Integrating it allows you and your customers to access all the information from a single point of contact. Apart from GDS, you can also go for third-party API integrations like payment gateway integration and social media integration.
iv. Meta Search Engine
If your purpose is to provide customers with information from all the available sites, then a meta search engine is the solution. It combines data of various search engines and gives appropriate data based on it.
v. Custom Development
A custom portal development is the combination of all the above development types with your unique set of features.
Insider Tip: Go for custom development as you can include everything in one pack – whether it's prompt service, automation, advanced search, or third-party integration.
B. Decide the Features
Whether you're going for a custom solution or extranet, there are some essential features that your portal should have.
i. Responsive Design
Whether your customers access the portal on laptop or mobile, it should be easy to navigate. Ensure that the design is compatible with all the platforms and devices. In fact, you can customize a few things as per the device. For example, make CTAs and buttons easily visible on a mobile phone.
ii. Ease of Search and Selection
It's necessary to include search options with filters in your portal. It helps customers in matching their requirements and finding relevant information quickly. For that, you need to include various parameters related to traveling like country, estimated budget, number of days, flights, and more.
Now-a-days, predictive search has taken over manual search. With the use of AI, the system can automatically detect what customers are searching for and provide relevant information based on the one or two letters that users enter. So, make sure that you include predictive search in your travel portal. It's a lot more helpful.
iii. Support for Third-Party Integrations
Ensure that your portal allows integrating third-party tools like payment gateways and maps. This way, you can provide extra functionalities to your customers. Multiple payment gateways will make transactions easier and faster. Likewise, map integration will allow travelers to explore nearby places within the portal.
iv. Easy Verification Procedures
Your portal should provide online verification for customers, helping them to complete their verification process quickly during check-ins. It should also have similar functionality for agents. They should be able to upload documents and get it verified digitally.
v. Workflow Automation
Include all the features that self-service portal offers like knowledge base, community support, ticket management, case deflection, etc. and make simple tasks efficient. Define the flow of the tasks. For instance, when a ticket is generated, auto-assign it to the relevant rep. Update the ticket status and notify the customers about it, and so on.
Here are some of the additional features that you should consider while developing a travel portal.
Role-based access
Multiple Sales Channels (Helpdesk, Frontdesk)
Booking Management
Document Management
Customized Dashboard
Reports and Analytics
C. Look for Trends Shaping Travel Industry Post Covid
After 2 years of lockdown and restrictions, people are finally optimistic about travel. However, their preferences in booking and traveling are likely to differ from pre-pandemic era. So, let's see what has changed since the pandemic and how you can adapt.
i. Tech Adoption Accelerates
In the past 2 years, the world has undergone a massive transformation. Technology and digital services have taken the front seat – whether it's shopping for groceries, clothes, or essentials. Even the work has shifted to remote. And now the fact is, it has become a habit. People have become used to doing everything online. This will apply to the travel industry as well. A lot of people already booked trips online before the pandemic. Now, this trend is going to be more pervasive and travelers would expect an end-to-end digital experience. One example is room service robots.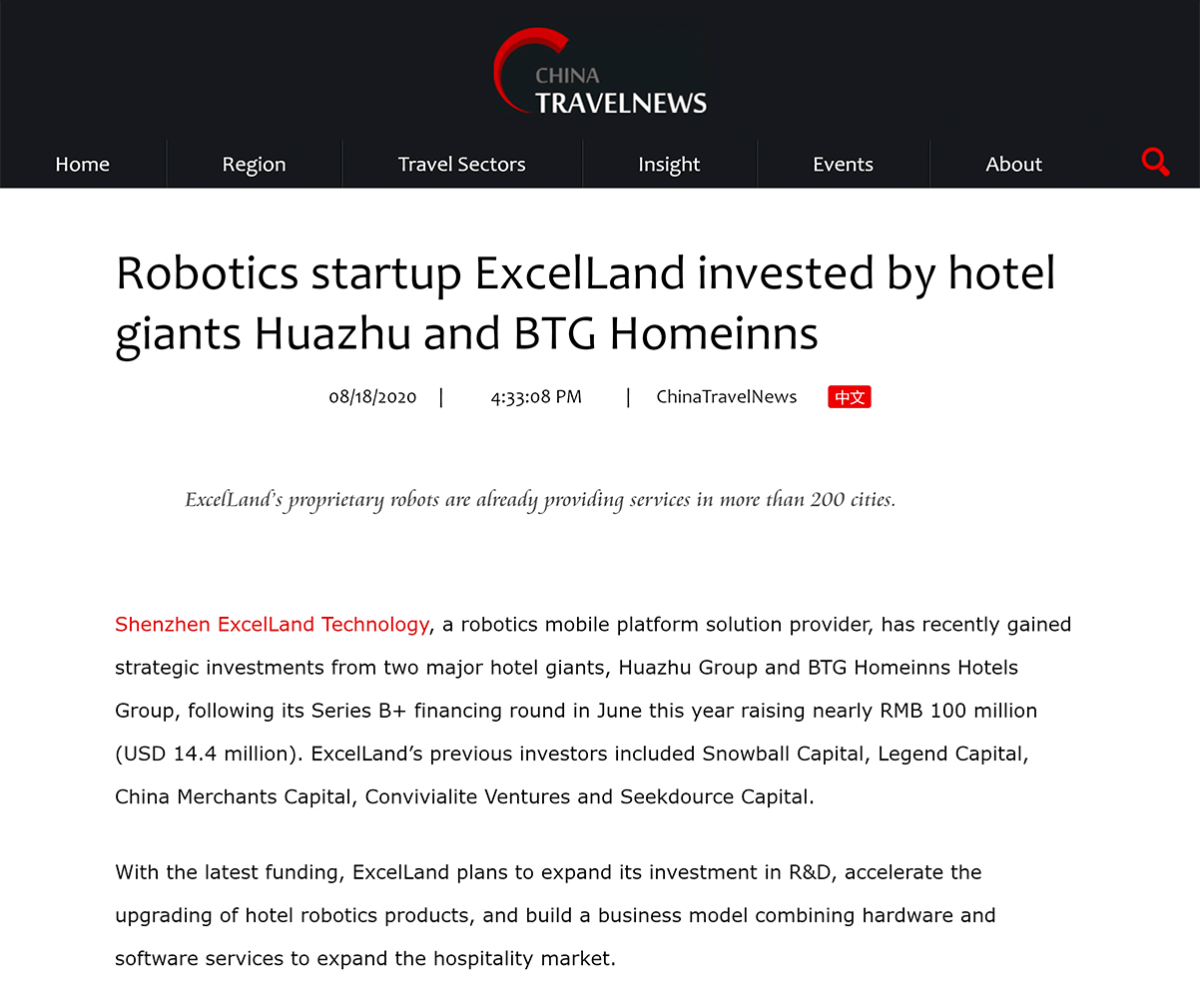 What you should do is – bring in a travel portal. It will make it easier for you and your staff to manage the backend operations. Your customers can take care of their own activities themselves.
ii. Hygiene and Safety are Priority
Since the outbreak of COVID-19, safety and hygiene have become paramount. A Booking.com survey found that 46 percent of travelers are afraid of contracting viruses during local transportation. There are a number of trends like increased cleaning, social distancing, availability of desired locations and destinations, providing sanitizer, enforcing masks, and vaccination certificates. While choosing a destination, customers are likely to consider these trends.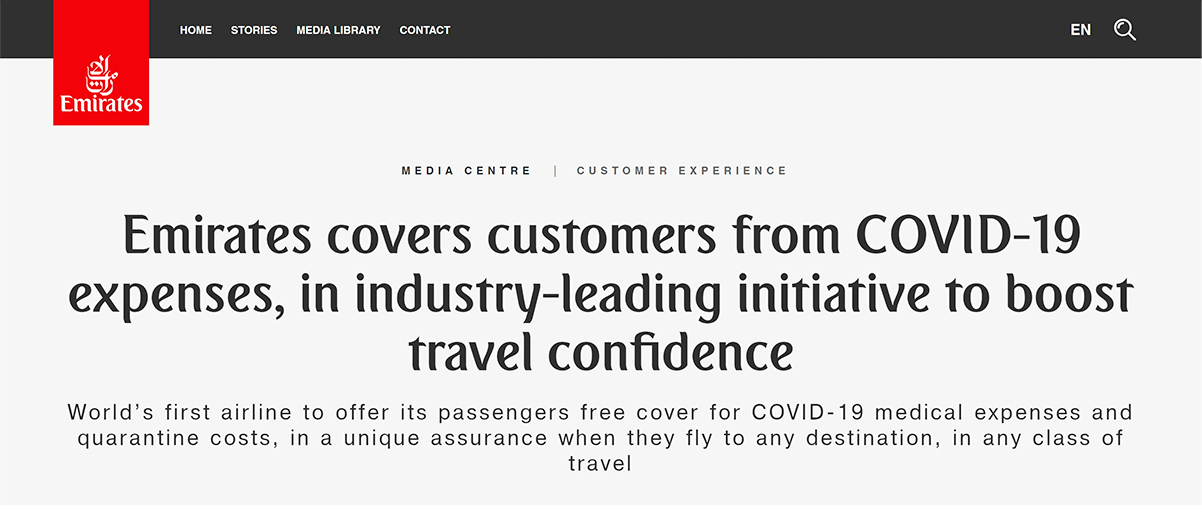 So, keep your customers informed about the latest travel news and guidelines through social media and blog posts. Be clear with your safety policies as this is a vital marketing strategy now. Customers are concerned about their health and safety. These trends will give them an idea about what measures you are taking to keep them safe.
iii. Shift from International to Local Trips
People are desperate to get out of their homes. They just need a break. Initially, they are likely to take road trips to nearby places. They might be reluctant about flights, especially those with infants.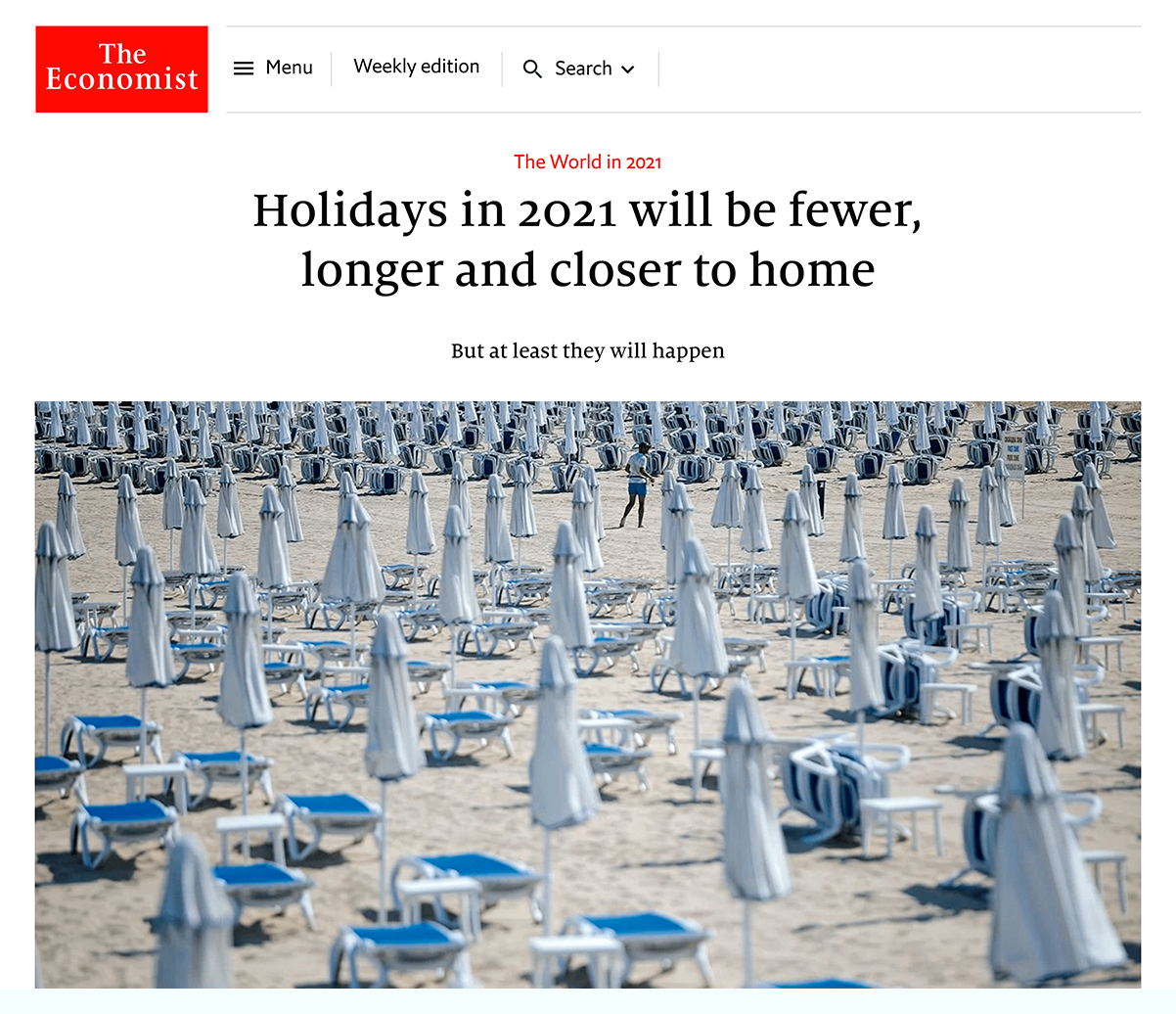 Hence, promote local hotels and accommodations. Write articles on weekend getaway trips covering lesser-known places and accommodations. You can even partner with locals and let your customers book private tours and travels with locals just like WithLocals offers.
iv. Need for Flexible Booking Policies
Even if travel starts in full swing, customers will be uncertain about their bookings. What if there is another wave? What if the destination country bans the people originating from the source country? What if they have to cancel their trips because someone got infected? Trips may get cancelled or updated.
But you have to ensure that it's easy for your customers to cancel or reschedule their booking. Provide options like free cancellations/modifications, fully refundable/partial refundable, and pay later. Also, offer good travel insurance policies.
Together these trends will create a dynamic relationship between you and your customers. Hence, include these in your travel portal development. Add safety and flexibility related features. Accelerate digitalization by incorporating technologies like AI, AR and VR, Voice Search, etc.
D. Partner with a Development Company
Finding the right partner is challenging as every development company has their unique offerings. Some may offer services at affordable pricing while another may have better experience. Hence, here are a few factors you can consider while choosing the travel portal development company.
Portfolio: Look at their portfolios, technologies they have worked on, and products they have developed. Also, check out the case studies, it will give you an overview of how they handle customizations, if asked for.
Customer Reviews: Check out the testimonials and other ratings and reviews. This way, you can learn about their pros and cons easily. After all, customers don't lie.
Experience: Know about their total work experience. This helps you sort if they have experience with technologies and features you're asking for.
Project Communication: Share your requirements with them and take their inputs. An experienced team will give you an honest opinion and even help you with additional features as per the market trends and your requirements. Also, it should be easy to communicate with them.
Information: Read their blog and other resource materials. This will give you a perspective about their thought process and development approach. An experienced, goal-oriented team will provide valuable information to their clients.
Budget: The more complex your features are, the more you will have to pay. Therefore, clarify the development cost before finalizing them. Request quotes and know about their payment policies so that you don't end up paying for the post launch support because you didn't clarify if it's free.
You also have to consider the factors that affect the travel portal development cost – features, type of business model, platform type, booking engine, integrations, technologies, and team's expertise. Location of the development company and the total development hours also affect the expense of developing a travel portal.
4. How CRMJetty can Help You
We can develop a custom travel portal for you considering all the technologies and the latest trends. We have years of experience in developing solutions for SMEs and large enterprises from various industries. Whether you need a B2B, B2C, and other niche specific custom solution, our team can help you with services that meet your requirements.
Last but not least, we follow agile methodologies. So, you're always a part of the development process.
All product and company names are trademarks™, registered® or copyright© trademarks of their respective holders. Use of them does not imply any affiliation with or endorsement by them.