Have you heard about portals? They have been ruling and evolving for a long time. Businesses opt for it due to its dynamic features like self-service, data security, etc. But the search for the right tool is challenging.
If you, too, are looking for a solution to automate your customer service and enhance the overall experience, then Dynamics 365 portal is for you. In this blog, I have written all the details you need to know about Dynamics 365 portals. Let's start with the basics:
What is the Dynamics 365 Portal?
Portals are basically websites that provide a tailored experience to your customers, partners, and employees.
Dynamics 365 portal directly syncs all the information from the CRM so that you don't have to re-enter all the data.
With Dynamics portals, you can enable easy sign-in, self-service, payment gateway, and much more for your customers. You can:
Allow customers to help themselves find solutions to their queries through the self-service sector
Enable smooth communication and collaboration among business partners
Increase your employees' productivity, and more.
Types of Dynamics 365 Portal
1. Customer Self-Service Portal
Customer Self-Service Portal helps you guide your customers even when you are not sitting at your desk. A streamlined knowledge base helps them get answers to their queries when they cannot reach the support staff.
A customer self-service portal encourages problem-solving by providing relevant solutions without the intervention of your staff. This portal includes forums where customers can have discussions, which helps the company or organization get essential feedback.
Check How Customer Portal Can Enhance Your Customer Experience With Personalization
2. Employee Portal
This portal is an internal space for employees to share their knowledge, documents, tasks, or interact. They can even ask questions to other employees, HR, and managers and get their answers easily.
HR work can also be smooth through the Dynamics portal. They can manage employees, leaves, and other organization-related information in one place.
Managers can leverage the employee portal to perform their managerial tasks. They can track team members' summaries such as leaves, salary, deadlines, certifications, etc., and analyze their performance.
3. Community Portal
A community portal helps organize and send invites for discussions, polls, blogs, ratings, comments, etc. Experts can advise on certain queries, and customers can get help from them easily.
It is like a virtual community where users can engage and promote the organization as they become unofficial ambassadors and influencers.
4. Partner Portal
Partner portal makes managing partners easy.🤝
It allows your partners to access various components like orders, invoices, payment history, etc., all the things that are relevant to their functions in the organization.
They can get an insight into lead distribution, deal and opportunity tracking, and use that to improve their operations whenever possible. With account management capability, partners can update relevant details, access their contract details, etc.
With multi-partner collaboration, multiple partners can work together on a single opportunity. You can use partner lifecycle management to recruit and streamline your partner channel operations.
The partner portal also maximizes deal protection and authorization for discounts and benefits and gives vendors visibility in the customer pipeline. This happens via deal registration.
5. Project Service Automation and Field Service Portal
The field service portal is to have an all-around view of agreements, invoices, assets, and work orders. It shows the data when customers purchase a Field Service, Project Service Automation, or Enterprise plan.
Project Service Automation even provides the partners with project information like quotes, invoices, bookable resources, etc.
Industry Specific Use-Cases
1. Education Portal
As education is also shifting to digitalization, education portals help to make virtual classrooms easily accessible and more interactive. From enrolling a student to issuing leaving certificates and managing their personal information to lectures, this portal can do it all for you. It eases the student registration for both students and staff. Online lectures, accurate attendance, results, events, etc., can be managed through a portal. It has different features for admins, teachers, and students.
You can have a detailed view of what the education portal has to offer from here.
2. Healthcare Portal
The patient-doctor relationship needs to be well-managed to live with proper health care treatments. There needs to be constant communication and updates to ensure better well-being.
With healthcare portals, patients can easily sign in, book their appointment, have an e-appointment with doctors, see reports, pay bills, etc. At the same time, doctors can see a patient's history, details like allergies, prescriptions, chats, etc.
All this will sum up to give the best healthcare treatment to the patient. Plus, it will also lower the efforts of patients to come to the hospital for little things like paying bills or collecting reports as they can have it through portals.
Click to know more about the benefits of the healthcare portal
3. Real Estate Portal
To stand apart from the competitive real estate market, a portal can help you with the best assistance. It helps you to find the best properties online, engage more buyers, have details of every property visit, make virtual visits, etc. The visitor can also directly book an appointment to visit the property and pay online if they want to buy it.
Learn more about the future of the real estate industry
Other industries such as travel, legal, nonprofit, insurance, etc., can also benefit from Dynamics 365 portal.
Advantages of Dynamics Portal
User-Friendly and Easily Configurable
Apart from the organized layouts, the dashboard has properly stacked elements. Through this, users can navigate the portal without any hassle.
You can deploy the portal plugin of Dynamics 365 quickly as they are ready to use and can start running in a few minutes. All you require is to sign in to the system and clear all the configuration steps.
Solve Problems Easily
Every business desires to eliminate the time it takes to solve a customer's problems. With Dynamics 365 portal, you can provide self-service to let customers assist themselves at their convenient time.
Document Management with SharePoint Integration
SharePoint integration makes sharing documents with your internal staff much easier for you. It helps to collaborate and communicate smoothly to make the workflow productive.
Keep Your Data Safe
Data security is something you should never compromise.
With portals, you don't have to worry about data breaches. It gives you the power to restrict access with features like two-factor and multi-factor authentication.
Limitation of Dynamics 365 portal
No matter how incredible the solution is, there are some flaws in terms of limitations. The Dynamics 365 portal has some limitations too, and we have a solution for those limitations. First, let us look at the limitations of the Dynamics 365 portal:
Cost of Additional PortalYou might be aware that the Dynamics 365 portal provides only one free portal, so if you require more than one portal, you need to pay extra money. They count the cost of portals based on per page views.
Cannot Handle CacheIn Dynamics 365 portals, when you change any details in the CRM's user data, it will not be reflected directly on the portal. You will have to make the changes again manually, clear the cache, and finally, your changes will be reflected.
No On-premise SupportDynamics enables amazing cloud and server base support for all its products. But it seems like they are focusing more on the cloud-first solution, so they have made a cloud-based solution as the portal.This means you will have to depend solely on cloud-based solutions if you want to use Dynamics 365 Portal. It also means that you will have to invest in cloud services.
No Server Code AdjustmentsAlong with some complexities, the Dynamics portal has a restriction that you cannot change the architecture of their products according to your requirements.
Suppose you are trying to fetch your customers' data using their name as an entity. In that case, you can easily change the existing entity to another, like an address or mobile number. But you cannot change the architecture of the way an entity is being called. This brings us to the limitation point, concluding that the Dynamics 365 aka Power Apps portal is not so robust or flexible!
Now your question will be:
Do We Have an Alternative to Power Apps Portal?
Yes, you have an awesome alternative that can make the limitation count to zero!
The solution is PortalXpand! 😍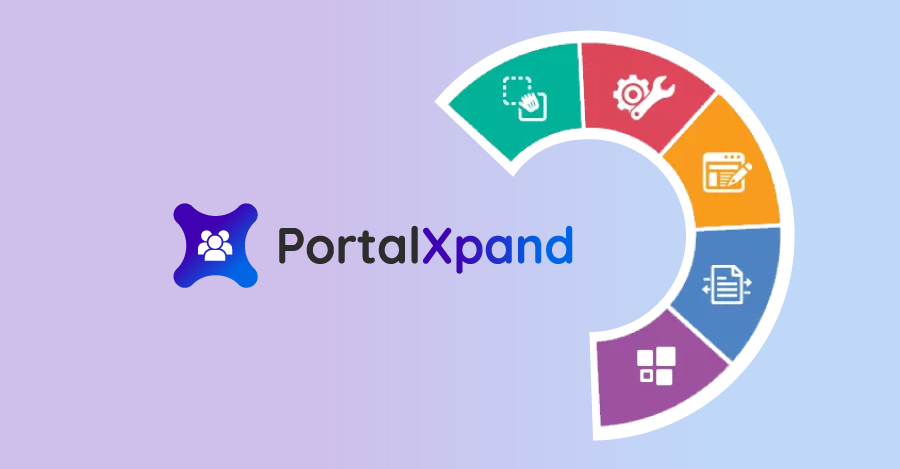 With CRMJetty's PortalXpand's features like:
Intuitive dashboard
Dynamic page builder
Custom widgets
Single sign-on
Case deflection
Role-based accessibility
Extensive knowledge base
Custom and default module support
Contact hierarchy management
You can avail multiple benefits like:
Cost-effectiveness to save you from unnecessary costs per entity because, with PortalXpand, you can have unlimited entities registered
Easy and secure login with two-factor authentication and a variety of sign-in options
Mobile responsiveness to bring convenience to customers and employees
Restrict access to authorized users to provide extra security
Customizations as per the requirements. This ensures your portal has all the necessary and helpful features
Personalized suggestions to customers for better engagement
Easy synchronization with CRM to avoid the constant back-and-forth
Dynamic and flexible to make using the portal smooth for you and your customers
Single dashboard with a 360-degree view of the business to save time and effort of switching the dashboards
All product and company names are trademarks™, registered® or copyright© trademarks of their respective holders. Use of them does not imply any affiliation with or endorsement by them.