Education systems are complex. For students to attend school and learn, there has to be an alignment between parents, teachers, and decision-makers. This requires an innovative approach that helps solve the same problem in a different manner.
Processes, programs, services, partnerships, and software can enhance the overall experience – like digital platforms that help teach students virtually or AR and VR sets that provide students an immersive experience. It can be an education portal that connects everyone, serving them with their role-specific data and activities. And helps in monitoring the overall educational processes.
While we have extensive knowledge and experience of programs and partnerships, the digital approach has been at the out lines. But not anymore! The rise of e-learning platforms like Udemy and Skillshare has transformed the entire education system. The pandemic has added fuel to it. According to the College Crisis Initiative, online learning has become the primary mode of learning for 44 percent of the institutions. The bend towards hybrid models is more than the classroom approach.
(Source)
Education portal is in demand in the market. However, it is not limited to managing administrative operations. It should be used as a complete solution that manages logistics, human resources, data sharing, collaboration, and communication. Hence, it's essential to know about the educational portal development before starting the development process.
In this article, I will walk you through the know-hows of the education portal that will help you gain and retain students.
What is Education Portal Development
An education portal is an online platform that simplifies a school's logistics with advantages for everyone on board – students, teachers, parents, and administration.
With the rise in digital tools, the portal's role in schools has widened. Apart from applying to courses, tracking applications, and submitting queries, students can attend lectures, interact with their staff and administrators, make payments, and do every activity virtually through a student portal.
Additionally, the portal also supports chatbots and a knowledge base that students can use to troubleshoot their problems themselves. For example, if there's an issue regarding course selection, applicants can look for answers in the how-to guides or fill in their questions and get answers via chatbots.
Education portal development streamlines the entire education process – from logistics to teaching and learning. It transforms the traditional approaches with quick and orderly processes.
Types of Education Portal
Considering the conception of an education portal, you can categorize an education portal based on various parameters. For example,
A gateway to information
Instructional and logistics management
Type of users
Here are two common types of education portals:
i. Role-Specific Portal
These cater to particular user groups like separate modules for faculty, where they can devise tests and courses, and manage their work schedule. With a student portal, students can manage their courses, applications, and status. For admin, it means faculty, students, and finance management in one place. It offers features based on the user type. These cater to particular user groups like separate modules for faculty, where they can devise tests and courses, and manage their work schedule. It specifically focuses on school logistics.
ii. E-Learning
This is like an online school where students can attend lectures and learn at their own pace. Udemy and Skillshare cater to this type.
Need of Education Portal
Satisfactory learning and convenience in the education industry are paramount to success. For institutes to thrive in the digital world, they need to make education easily accessible. And offer convenience, just like an online retail store. This means they have to get over their clumsy paper form filling methods and embrace the systematic way to solve their logistical challenges. This can be tricky.
Here, you need to research and understand the challenges that everyone on board faces, including students and parents. And then, you have to streamline it by allowing everyone to communicate, collaborate and share. Your digital solution should have everything required to manage a school/institute. For this to happen, you have to build a solution that consists of all the essential features. You also have to make sure of the latest trends and consistency in the services that you offer.
Benefits of Education Portal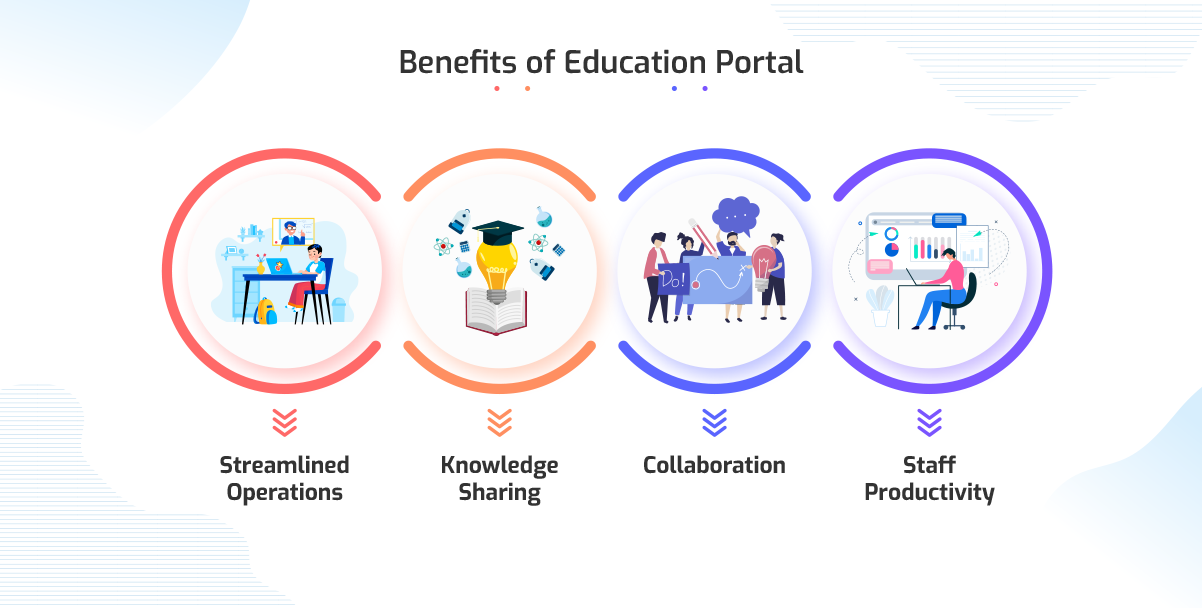 Here are some reasons why one should go for education portal development.
i. Streamlined Operations
Every student, new or returning, has a long "to-do" list before beginning the school year. A digital solution – student portal development can help you delight them with a single point of access and hub of all applications, content, and systems. You can keep staff and students informed by sending out timely updates and removing the silos if any. Moreover, self-service makes it easier for admin, staff, students, and parents to manage their activities.
ii. Knowledge Sharing
The most significant benefit of an education portal is knowledge management. Students and staff can find information they need related to a topic or an issue within the portal. They don't have to rely on paper systems, emails, or multiple websites to source what they need.
iii. Collaboration
Student portal solutions help you promote collaboration across schools, colleges, and universities. Project teams and other related individuals can leverage the shared workspace to upload research, brainstorm ideas, share insights, and work together on projects/documents, despite their physical differences. Besides, the 24/7 availability allows students and staff to access information anytime that fits their schedule.
iv. Staff Productivity
Features like lesson planning board, attendance tracking, performance reporting, class reminders, students' digital portfolios, in-app messaging, etc., helps staff efficiently manage their activities. For example, with lesson planning boards can create lessons and add images, audio recordings, text messages, and videos to them. They can even utilize external resources, PDFs, Google documents, etc., to keep their plans clear and concise. The best thing is that they can share it with students without extra effort.
Streamline Complex Operations with Automation
The education portal also offers personalized and self-paced learning, connectivity, and security. It results in faster onboarding, reduced support costs, secure access, improved engagement, and more. Let us see the features of education portal development that help leverage these benefits.
Features of Education Portal
From monitoring every student to managing administrative tasks, an education portal will provide the best of both worlds. It consolidates education, services, and staff. Self-service and knowledge base features will allow students and staff to accomplish their tasks more easily. They can troubleshoot their problems themselves and even help others through online communities. Whether it's about productivity, efficiency, or convenience, never disappoint your team members, students, and other stakeholders. Here are the must-have features of the education portal:
i. On-time Delivery
Not getting the information and course materials on time is one of the major challenges that students face. Plus, it also affects your institution's reputation negatively. An ideal e-learning portal will provide users real-time access to a library of resources and other relevant information such as course details, payment and dues, exam/event specific announcements, and more. It will allow them to access the information from anywhere, anytime. Students prefer a platform that lets them watch recent class videos and lectures in real-time and at their convenience. Faculty wants to track their students' performance. Admin wants to know it all.
By leveraging real-time delivery, you can deliver satisfaction and ensure your staff's productivity. Real-time data access enables you to:
Make informed decisions based on insights
Capitalize on increased demand instead of missing out
Track performance
Get a 360-degree view of your students and staff
Make processes more efficient
ii. Omnichannel Support
Just like retailers adopting omnichannel experience to engage with their customers, learners/students are also demanding similar experiences in the education sector. 88 percent of Gen Z prefer an omnichannel experience – whether for shopping or accessing educational programs. Hence, the portal you develop should allow your students, staff, parents, and other stakeholders to access the information from any platform, irrespective of the device and platform. Plus, all the communication channels should be available to students and faculty. They should be allowed to communicate via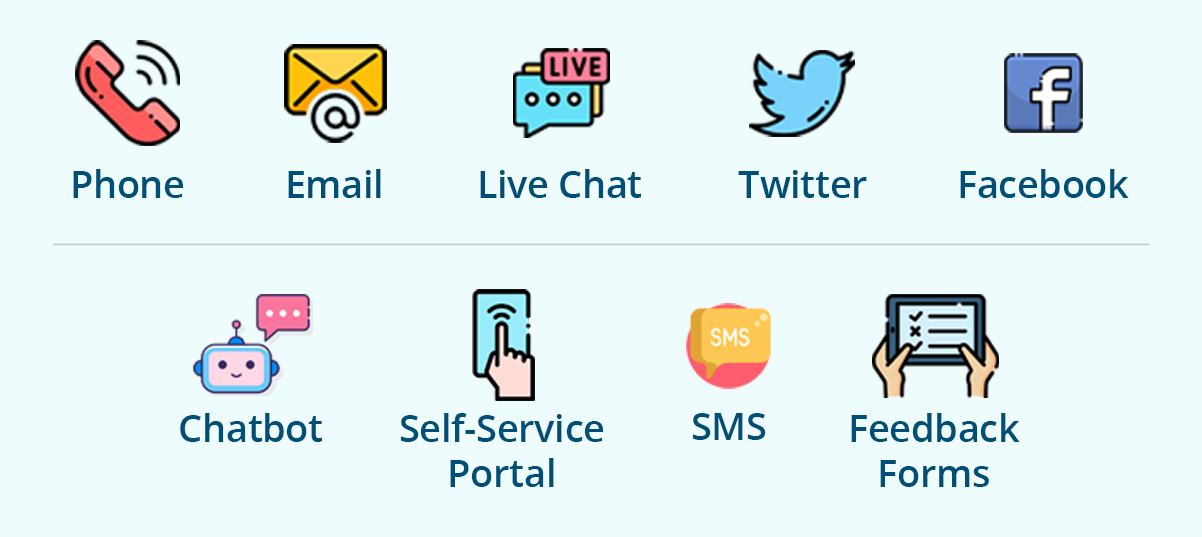 (Source)
However, the education center must know when to utilize a particular channel. Chatbots, for example, can be used to address common course-related questions. They are appropriate for unchanging information. Students who prefer one-to-one discussion with teachers can opt for email or live chat.
Streamlining education with multiple touchpoints will help you democratize education and lower operational costs. All types of learners will have their preferred channels, whereas you can collect, store and crunch data to drive high-quality leads.
iii. Collaboration Features
Visual learning increases the retention rate by 29-42 percent. Hence, the content you create should be appealing, the storyline should be interesting enough, and most importantly, consists of visuals to simplify learning. The interface should be engaging and provide features that make working together a breeze.
Here are some collaboration features to consider for student portal development:
Document management
Video conferencing
File storage
Internal messaging
Calendar views
Resource allocation
Self-service
Unified platforms
iv. Communication Features
Building a relationship with students and parents is the most important quality to make your program/institute successful. For this, you need to have authentic communication with them. It is also essential as providing course material and explaining the topics online doesn't guarantee students' interest. An educational portal development ensures that education and communication never stop. It offers different avenues of communication such as in-course announcements, emails, forum posts, voicemail messages, text messaging services to ensure that students get the information and can come back in case of help.
Some ways to encourage one-way and two-way communication include:
Build a students' community for their internal discussions
Integrate social media and communication tools like Skype, Google Meet, Zoom, etc.
Allow comments on articles, videos, and courses just like the e-learning platforms
Leverage reminders and notifications for extra classes, surprise tests, and more
v. LMS Integrations
LMS helps educational institutions create, adopt, administer, distribute, and manage all the activities associated with online education. Integrating different LMS tools into your educational portal development will enhance the capabilities of your portal solution. CMS, for example, will help you manage content systematically. Your knowledge base will be well organized. Similarly, with payment integration like Stripe and PayPal, parents and students can pay the fees online.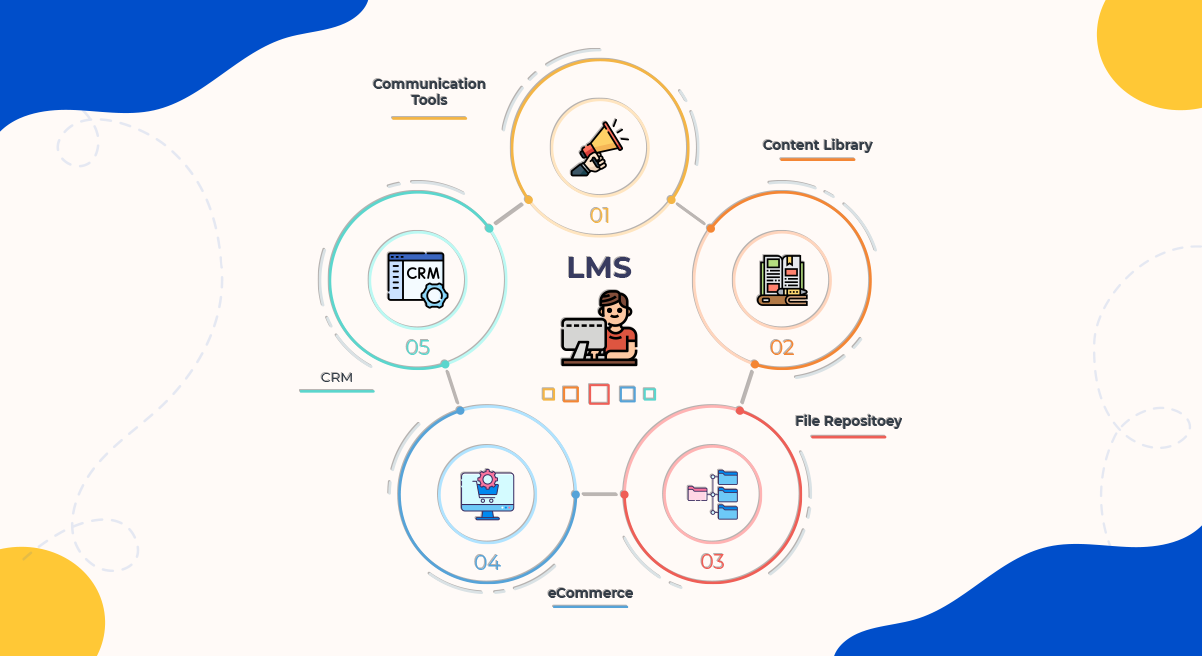 An education portal with various LMS integrations guarantees better understanding and engagement. Some benefits include:
Efficient distribution of materials
Reduces errors and redundancies
Transparency on feedback
Diverse assessment options
Opportunities for conversations
Increases ROI
Boosts social productivity
Better insights
vi. Access Level Features
Education institute as a whole consists of multiple entities – admin, teaching and non-teaching faculty, students, parents, board members, etc. Hence, having features specific to each role will ensure that everyone gets the best services possible.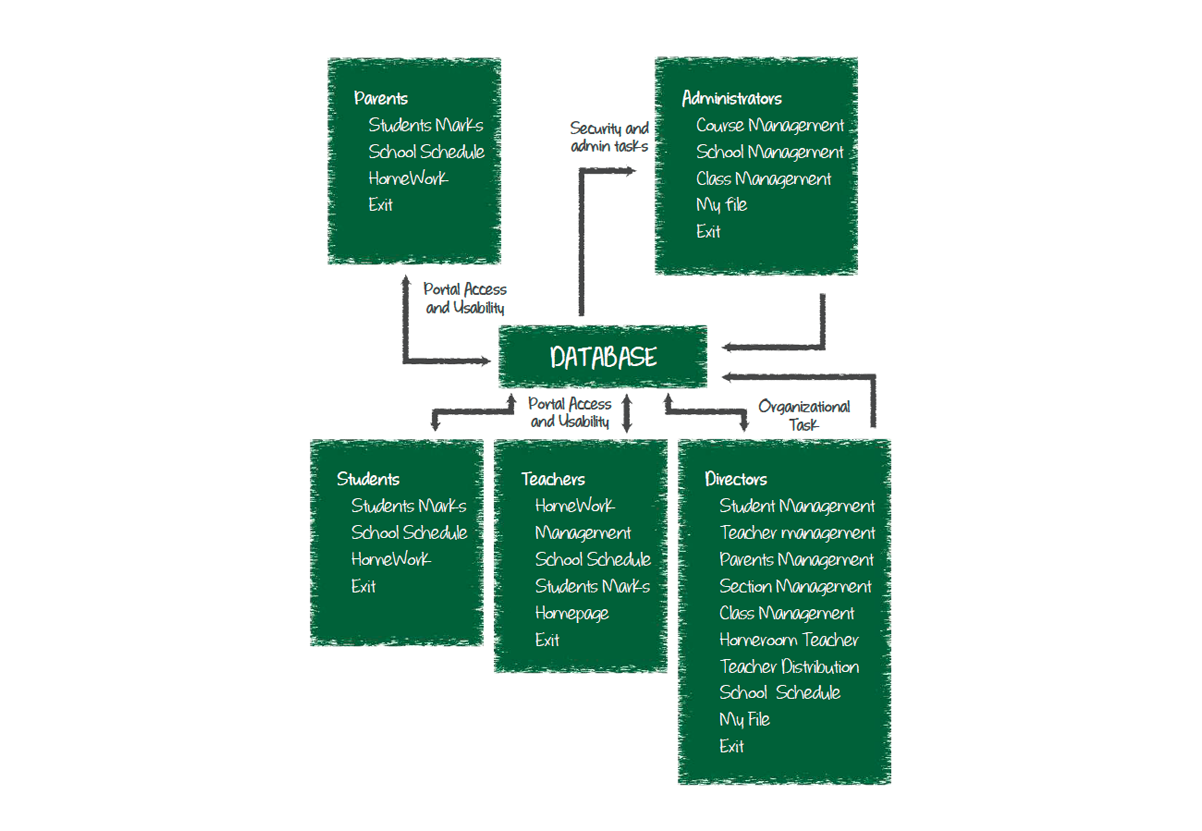 Admin staff can see all the school operations from one place. With faculty management, they can view their schedules, classes, grading work, etc. Finance management can provide them with an overview of the institute's finance.
Teaching faculty can have all their classes in hand. They can feed in course details and keep track of it. Track students' progress and performance and notify parents about extra sessions, grades, exams, and other announcements.
With student portal development, you can allow students to manage their courses, lectures, study materials, fees, enrollment, and other administrative activities. Students can even use it to submit assignments and medical leave requests.
vii. Analytics and Reports
Having periodic reports of activities, attendances, financial details, assessments, exam results is a must for improving accountability. Hence, it would be wise to include a smart dashboard with reports and analytics to track goals and overall performance. This will also help you help your staff and students when they are stuck somewhere.
Digitalize Learning with CRMJetty
What if I tell you that you can transform your physical institute into digital by getting custom education portal development?
You can implement the latest educational trends into your portal. With integrations, you can allow students to watch the lectures live or recorded ones later. Teachers can track their students' progress during the course. Features like a knowledge base can provide a wealth of information at their fingertips.
CRMJetty can help you cater to your educational needs in the best possible way. Here are some of the features that we can help you with:
Attendance Module
Admission Management
Online Communities
Knowledge Base
User Management (Faculty, Student, and Parents)
Role-based Access
Finance Management
Grading Modules
Performance Outline
Third-Party integrations
Ready to Shape Students' Lives?
An educational institution has a lot of elements. With thousands of students applying for various courses, it is difficult to manage all the activities – which professor will teach which class at what time, which students need extra credits to graduate, who have not completed assignments, whose fees are due, and so on. A custom-developed solution will ensure that all the challenges are tackled, and processes are automated.
For that, it's necessary to choose an education portal development company that has extensive knowledge of the industry, market, trends, demand, and the challenges that institutes like yours face in this digital revolution. CRMJetty can be that partner for you. The one with extensive knowledge, 15 plus years of experience in development, and up-to-date with market trends and demands.
We can help you with a portal tailored to your requirements.
All product and company names are trademarks™, registered® or copyright© trademarks of their respective holders. Use of them does not imply any affiliation with or endorsement by them.