You've got life-saving work! (Like literally 😆)
The last thing you or your healthcare staff want to do is to immerse yourself in the time-consuming process of manually handling things.
It could be anything from giving your patients the information they need to making calls to confirm appointments.
For enhanced productivity, and profitability, the idea is to give your patients complete visibility into their interactions with your healthcare organization.
Patient portals in healthcare help you achieve that.
They give your patients all the information they need, and assist them with appointments and medical records.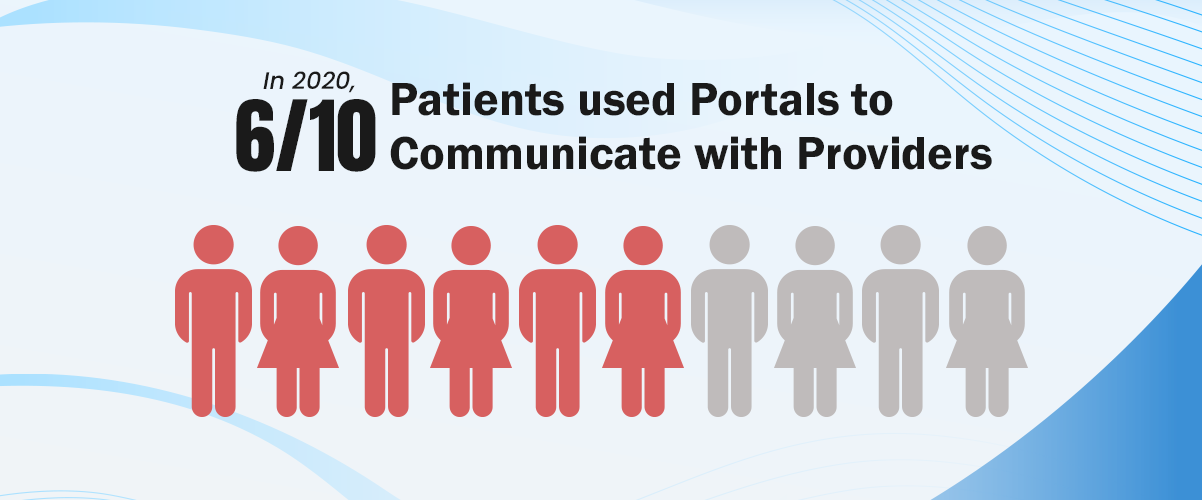 Today, more patients have started using portals to communicate with providers. Roughly, 6 in 10 did so in 2020. As compared to 2017, it's a 10% increase.
If you are wondering how portals can help your healthcare organization, this post has covered everything you need to know about the benefits of patient portal!
An outline of topics this post covers:
A. A Hub of Information to Save You Time
As a consumer or a customer, we seek detailed information about the product or service we take. What are the features? How will it help me?
The same thing applies to healthcare but in a much much complex, rather serious way.
A common problem
Your patients want information and explanation about everything including their test reports, diagnosis, medication, and so on.
One of the main challenges healthcare providers face is to provide this information to patients as and when they need it. Plus, they also need to be available on multiple communication channels be it phone or emails.
Ideally, you'll have your admin staff take care of it. However, there are high chances of errors and delayed responses. Especially when your patient base is growing.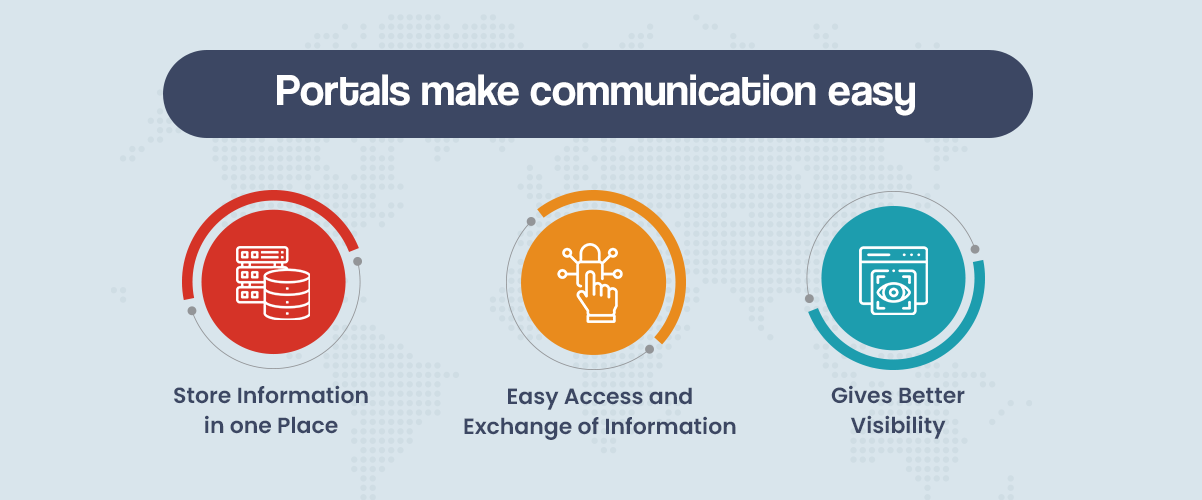 Patient portal features as a solution
At the core, patient portal benefits by making communication and information manageable. At any time, your patients can access any information they want. Even your staff can benefit from it.
Here's how everything falls into place:
Patients can access information regarding their reports, X-Rays, scans, health data, treatment progress, etc.
Healthcare staff get a complete view of doctors' schedule, patient medical history, discharge process, and such.
Make all the legal aspects like NDAs, patient permits, doctor qualifications, and such easily accessible using the portal.
All of these things help enhance communication, enable quick exchange of information, and leave no room for misinterpretation.
Know more about how CRMJetty can help you make the most of a healthcare portal. Read all about the features and how you can benefit from them.
B. Enhanced Efficiency with a Streamlined Workflow
Every day, every week, you have to schedule several appointments.
The manual process of handling them, sending reminders to each individual is time-consuming and hampers productivity. It ultimately creates a huge negative impact on both staff and patient satisfaction and retention. Patient portal is the perfect solution to create a streamlined workflow. It helps make your entire healthcare operation a lot faster and smoother.
The most basic advantage you enjoy is an easy appointment scheduling process. With automated scheduling you can overcome unnecessary conflicts that might happen in the process.
Additionally, you can also have a smooth staff or patient onboarding process with the help of a patient portal.
Here's how streamlined your healthcare workflow can look using a patient portal.
Appointment Scheduling – Your patients can schedule appointments based on parameters like doctor availability, medical emergency, etc.
Easy Onboarding – You can have new or existing patients have a secure login, and create profiles on the portal. You can then get a complete view of their consultations and medical details.
Schedule Management – Doctors can easily have a look at their schedule using the portal. They can view their assigned appointments as well as surgeries.
Staff Scheduling & Lab Management – It helps manage the schedule for staff and doctors, as well as taking care of lab reports, and such.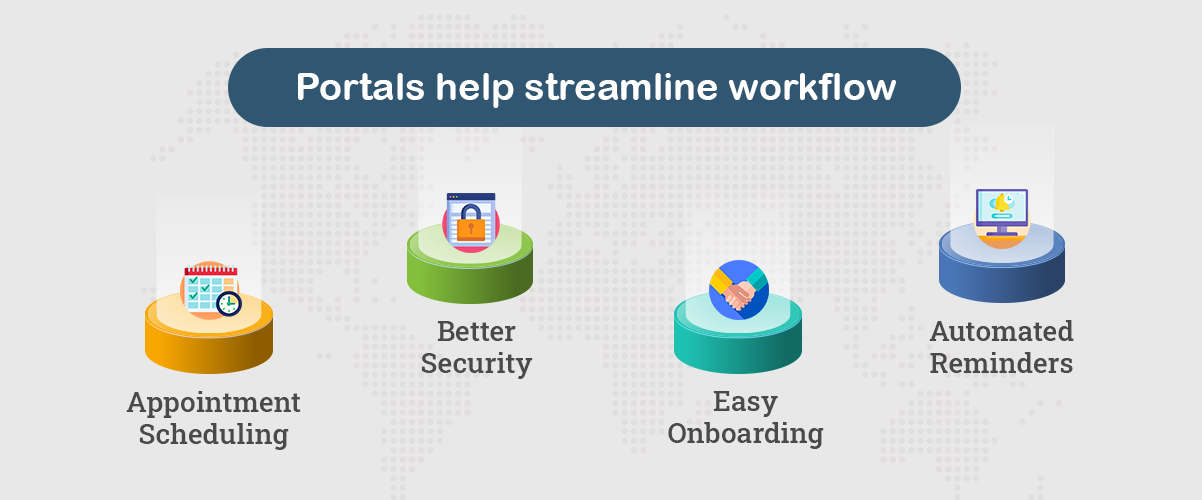 Workflow automation for enhanced security
One of the biggest benefits of patient portals is having an automated workflow. It helps in reducing errors and security threats. Oftentimes, data breaches happen because of manual data entry.
Having a streamlined workflow using portals reduces human intervention and potential errors. It also helps you be HIPPA (Health Insurance Portability and Accountability Act) compliant and avoid any violations.
It further protects your patients' sensitive health information, and guards against any kind of data breaches. Using the portal, patients can access all their data.
Ultimately, such secure interaction helps eliminate frauds, and helps build trust between healthcare providers and patients.
Streamline your workflow for better efficiency and productivity with healthcare portals. Build a secure and custom portal with us. Click to know more.
C. Boost Revenue by Capitalizing on Digital Payments
In the healthcare sector, digital payments are on the rise.
As per a survey by USbank, 25% of customers are paying via contactless debit or credit cards because of COVID-19, wihile 23% via their provider's online portal.
And that's why healthcare providers are prioritizing digital payments to improve user experience. Patient portals can help you ease the process of managing payments.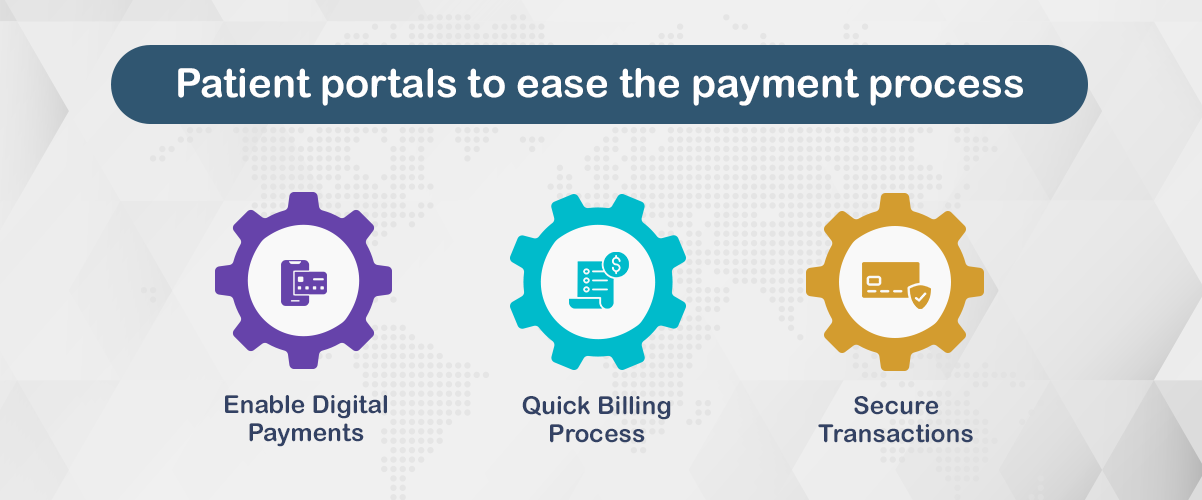 The entire billing process becomes smooth and you no longer have to deal with paperwork! Patients can not only make online payments, but also invoke their insurance claim using the portal.
Your admin staff can take care of all aspects of payments like fees, invoices, insurance details, etc. using payment management feature.
The process brings more transparency in payments, makes billing hasslefree, and ensures timely payments and security.
D. A Push Towards a Customer-Centered Approach
Just like eCommerce, healthcare too, is moving towards a more user-centric approach.
People expect great support, transparency, personalized service, and clear communication. And hence, healthcare providers are making these aspects a priority.
Such a user-focused approach not only enhances engagement, but ultimately improves patient satisfaction and great financial outcomes.
Patient portals can benefit your practice by improving the overall patient experience. Patients can use the portal instead of making calls every time for some information.
You can send personalized messages, and reminders about scheduled appointments, payments, annual checkups, and such.
Another benefit of a patient portal is that it helps aid the latest trend of telehealth. The new analysis indicates that the telehealth use has increased 3X from pre-covid baseline.
You can enable online consultation with the portal, and thus make your service available across the globe. Further, it helps reduce medical overhead cost.
CRMJetty Expertise!
Who are we? Well, to begin with, we love portals (if that wasn't obvious)! For 15 years, we have been helping businesses of all sizes, and of varied industries with portal integrations.
With security and quality on either side, we work with a motto to create portals that help businesses achieve their goals.
What truly sets us apart from others is our focus on building products that are easy to use for both businesses and their end-users.
Just like you, we have helped many healthcare providers with custom medical portals to streamline the management of their clinics.
For instance, one of our Spain based clients is a dental service provider. Using a custom portal, they can now streamline their administrative tasks of multiple clinics.
It helps them take care of patient appointments and records. The role-based access ensures that the data remains protected.
Curious to Know How Your Organization Can Benefit?
If you are in the healthcare industry, we can help you create a portal to automate your workflow, and for enhanced customer communication.
Share a little about your industry with us, and we will get in touch with you to solve all your queries!
All product and company names are trademarks™, registered® or copyright© trademarks of their respective holders. Use of them does not imply any affiliation with or endorsement by them.