We would not have known back when Belgium boasted the first stock exchange in Antwerp in 1531 in a room, where all the money lenders and brokers would come to deal with business. However, today, thanks to technology and users' interest, anyone can invest in the stock market, that too, from anywhere in the world. Investors and lenders only need a laptop or a mobile device to connect and manage their trading. Trading portals have simplified everything. They help avoid vendor lock-in and increase capitalization. Besides, you leverage increased visibility, better insights, more sales opportunities, and streamlined internal processes. A trading portal offers various features that you can use to maximize your business efficiency and profits.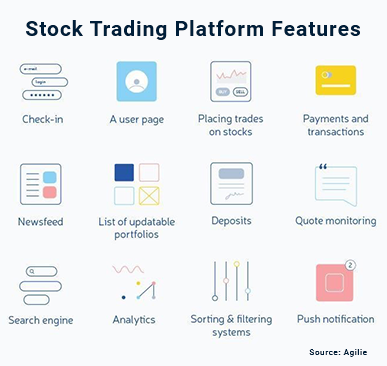 Here are a few ways in which you can use a custom trading portal to manage stocks and portfolios.
1. Manage Portfolios and Resources
A custom trading portal provides investors and traders a single point of access to monitor their activities and stock details. Investors can access all the major exchanges via a single platform and create instant wealth. They can monitor and buy shares from a single place. A good example is WeBull. It offers commission free and commission based stock trading on ETFs, cryptocurrencies, and more from one window. It provides an intuitive interface where users can manage all their portfolios and share details without any trouble.
Self-service empowers investors, traders, and portfolio managers to enhance their skills and get better results. Investors can view their stocks, market value, transaction history, and profit and loss. They can then examine the risk indicators and invest wisely. Similarly, traders can view all their clients' details – investment, brokerage, shares, personal information, etc.
eToro is a trading platform that helps investors to communicate and monitor their transactions.
2. Track and Manage Details
With a stock trading portal, you can track and manage all the resources, programs, and projects easily from a single dashboard. For example, you can select a portfolio and view all the details related to it, including shares, profits, customer information, investment, brokerage, and more from a single screen. You can also make adjustments to target goals and allocated resources, directly from the calendar.
As a trader, you can generate resources a.k.a your staff's plans, assign customers, and evaluate their performance over the time. This helps you calculate the time and money aligned with a specific deal/lead. Overall, a portal with a smart dashboard and calendar feature helps you track your staffs' performance and customers' experience.
3. Avoid Fake Transactions
You can verify your investors and traders before welcoming them onboard. With a custom trading portal, you can integrate security features like role-based access and two-factor authentication to avoid unauthorized users from accessing the portal and manipulating with stocks and exchanges.
As an admin, you can approve or reject the accounts, new user requests, verification documents, etc. Role-based access further limits the data access. This feature ensures that only the authorized and verified users can access the portal. While several registration options such as email, phone number, social login, touch, and face ID offer convenience, single sign-on is an added advantage. It allows authorized users to access multiple channels directly through their Gmail or other account.
Example: One of our clients from the trading industry had specific requirements for portal development. Read this case study to know how we helped them with a custom trading portal.
4. Round the Clock Support
With a single click, investors can get quotes of the stocks they own. They can bifurcate, compare, and evaluate the fluctuating prices. This helps them take calculated actions. An online portal further offers a knowledge base that helps keep everyone updated about the stock market. It notifies users about the stock value, investments, risks to alert them.
The knowledge base encourages self-service. It helps users to resolve their doubts and queries themselves with the help of articles, documents, FAQs, news, tutorials, etc. In addition, features like version control increase the reliability of data. Your portal users get to read up-to-date content. A good example is StockTwits. It is a Twitter for stock analysts. The app provides investors with all the latest ongoing in the stock industry, keeping them abreast of the market, shares and their fate.
Trading portal also gaps the distance between investors and traders. If an investor can find the solution in the knowledge base, they can contact the trader via live chat/call feature and get the query resolved instantly. And then there are AI-enabled chatbots that help businesses save their support team's time and efforts. Chatbot helps customers resolve the basic query by sharing/redirecting them to relevant articles, FAQ, or tickets.
5. Build Feedback Loops
One of the popular benefits of trading portals is gathering customer feedback. You can build the feedback loops by conducting surveys, service reviews, commentary, etc. This will help you improve your service offerings. For example, even after using knowledge base, your customers, i.e., investors raise tickets for multiple transactions or the steps to invest in exchange. With this knowledge, you can interpret that your knowledge base is not relevant or comprehensive enough to help your clients. You can then focus on updating your knowledge base and even drill down further to see whether customers struggle with a particular topic to add more content around that.
6. Gain Powerful Insights
A custom trading portal not only acts as a sales platform but also helps investors gain knowledge about market trends, investment risks, and competition. While investors get clarity about different stocks, it acts as a catalyst for businesses to stay ahead of their competitors. This provides better insights into various details including price, risks, investment, estimated profit, number of shares, etc.
You can further integrate analytics in your portal to deliver personalized experience. Also, you can collect customer data – their browsing pattern, investments, transactions, and offer services according to their needs. Even a small change such as offering multiple channels to trade can make a huge difference to your business. Moreover, the portal offers a smart dashboard that provides users a quick overview of their actions along with specific details.
Start Developing your Custom Trading Portal Today
Trading portal enhances your investors and traders' experience. It streamlines the investment and transaction process by automating the manual tasks. Besides, a custom solution offers flexibility. It lets you add features as per your business needs such as check-in, document management, in-app chat, multiple languages, payment methods, transaction history, stocks, quote management, comparison of stocks, search, analytics, community, filters, push notifications, alerts, emails, etc.
A custom trading portal offers a frictionless experience. Security eliminates the chances of errors in the trade process while automation makes them more efficient.
We, at CRMJetty, have an extensive knowledge of the portals and the different industry requirements. Just like our Forex trading client, we can help you with a custom trading portal tailored to your business needs. Share your requirements with us today!