A Custom Trading Portal For Hassle-Free Trade And Portfolio Management
Managing accounts manually can be tricky for trading companies. Even a minute error in data can cause hazardous results. Here, the way to rescue is to automate the data entry and account management with utmost security. This case study is the best example of how automating the process with a custom web portal is an all-in-one solution for your trading company.
About the Company:
Forex Trading Company
This Singapore-based trading company provides a manageable and smooth trading functionality. They enable customers to deposit and withdraw funds from their trading accounts. This company provides services that make even huge transactions frictionless. They ensure that their customers get the finest experience of seamless fund management.
What Were their Requirements?
The client wanted a clean platform they could give their clients to handle their trading portfolio. For their customers, they wanted functionalities like creating accounts, selecting currency, depositing, and withdrawing funds. They wanted to automate specific tasks and reduce the manual efforts of their staff through CRM.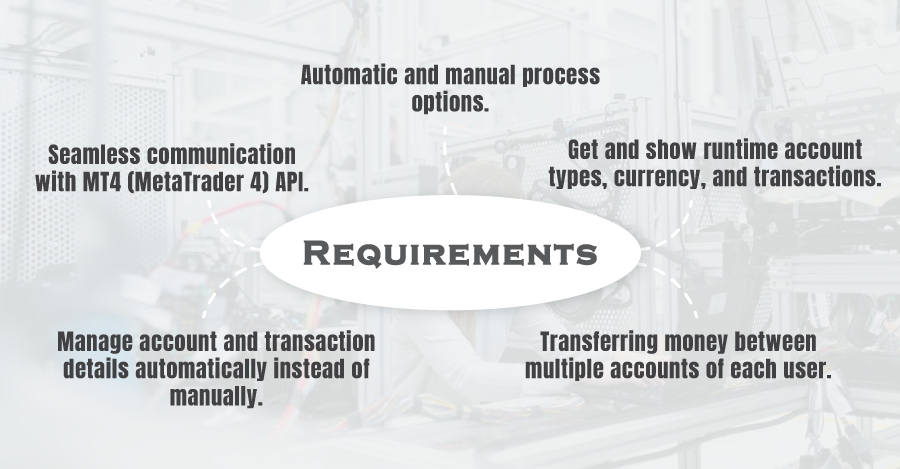 Solution We Provided
After analyzing the trading industry, their best practices, and our previous portal solutions, we developed a custom solution for the client with features that benefit them the most.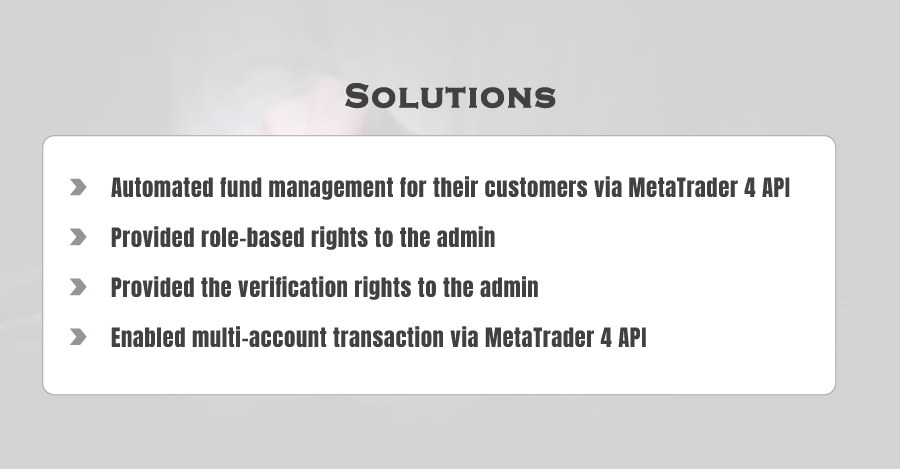 API Integration:

We automated fund management for their customers via MetaTrader 4 API. We used the default call with proper validation to communicate securely from the portal via CRM. This allows for fund deposit, withdrawal, and transfer.

Role-based Rights:

Admin has rights to set automatic and manual processes for account approval, deposit, withdrawal, account upgrade processes, etc.

Verification Process:

Admin has the right to approve or reject any uploaded document for account verification. Based on that, a user's account status will be defined, and they may need to upload documents again.

Multi-account Transaction:

Made the transfer of funds between multiple accounts of a single user possible using the MetaTrader 4 API.
What was the Final Result?
With our custom-developed trading portal, our client could provide a frictionless managing funds experience to their clients while reducing the manual work for their staff. Automated processes and the MetaTrader 4 API have made their entire operation cycle effortless.
Why CRMJetty:
CRMJetty has the industry expertise to cater to your portal requirements. No matter how complex your business logic, we can create an automated flow to save your time and resources. With our technical team, you can customize a portal that will fulfill all your niche and customer needs.