"Customer"
A term, which is a mystery to a lot of companies. On the other hand, there are companies that have grown big just by providing an integrated customer experience.
In fact, Google, one of the software/internet biggest company, tells its employees:
"Focus on the user and all else will follow."
Yes, you read it right! And today we see where this company has reached. They have over 250 products with billions of users across the globe. And they are still growing.
We know, in reality, keeping up with growing customer needs can be difficult. And sometimes it is difficult to even understand your customers. Another major challenge could be providing them with support around the clock.
We understand how difficult keeping your customers happy can be, so here we have covered 10 tips you can use in 2020 to keep your customers happy.
Engage with your customers on social media
It's the era of millennials and social media is the face for your brand. Social platforms have become a place where your customers speak to and a lot about your brand. Mostly, they provide feedback, experience or expectations from your company. To revert and get in a conversation with them on these platforms can directly affect your brand image.
For example, look at the below image. It's just a simple tweet addressed to twitter from one of their users where he's asking to turn his tweet into a billboard and voila! There it is. The user's tweet as a billboard.
Now, this might have cost Twitter a lot but in turn, they got a lot of positive attention and traction. And let's not forget brand building.
Seeing how Twitter engages with its users, people who are not on twitter might sign up as users.
You can also win your customers over. The key here would be actually listening and reverting with an appropriate solution.
This is the basic thing that as a company you should already be doing. It is necessary that you identify what your unique selling points are which is only possible if you have an in-depth knowledge of the industry as well as your competitors.
These are the points that actually earn you money and more importantly, it educates your clients about your offerings.
Also, it goes without saying that your company's marketing strategies should revolve around your USPs.
Many companies think they are providing the best service for their customers. But, it might not be true. For an actual scenario, you need to understand your customers and repeatedly ask for feedback of your services.
Here's how you can go about gathering valuable feedback from your customers:
1) Send an email survey just after the completion of a long project. Or just after you provided them support. This will provide you with real time feedback and honest opinions of your customers
2) Make sure that you check your social media platforms for any support queries or complaints and are actively reverting to their queries.
It is necessary to have employees with customer-centric mindsets. When you have people in your team who not only understand your customers but also care about their experience with you. This can be your long-term project but it's worth. Once you have a customer-centric culture through and through, your company will grow automatically. Also, make sure that your sales and support teams have customer advocates and your tech team keep themselves in customer's shoes while developing products.
That's when the magic happens and what you create sells.
Integrate customer portal
Portals are in trend. Today, there are portals nearly for everything. These portals not only help in building a close relationship with customers but they also provide ease to customers for communication.
Companies around the globe use customer portals to provide support to their customers by uploading manuals, handbooks, FAQs, and chat support.
Additionally, we recommend you to invest either in building a custom portal based on your business flow or going with a CRM/CMS based solution like SuiteCRM customer portal or WordPress customer portal or the CRM that you have.
Portals will lessen the burden for you but there are always inquisitive customers who have one or the other query. You would be providing FAQs, user manuals, chat support, etc. in portals. These features will make sure that customers get what they want in an efficient and easy way.
This, in turn, will make your sales team efficient. They will be able to handle the critical problems of your customers and respond to their problems and solve them on time. This will not only help your employees but will also decrease your customers' waiting time.
Invest in better customer service
Marketing your product and providing customer service are two of the important things for any. In marketing, you provide knowledge to your customers only to sell something. But that's not what customers want today. They have knowledge of your products. If not, they can get it from the internet directly with just a click.
Instead, they want better customer service, support, and an integrated way for them to communicate with you. Being there for them when they need you the most will go a long way for you.
Build an emotional connection with customers
Building connections with people always help. And this thing works in businesses as well. Building emotional connection with your customers will help you get better insights into what they want and what are the efficient ways to provide your services.
A company named Zappos can be taken as one of the best example for building an emotional connection:
"A customer was late on returning a pair of shoes as her mother passed away. When Zappos found out what happened, they took care of the return shipping and had a courier pick up the shoes without cost. 
And this is not all that Zappos did.
The next day they sent a bouquet of flowers and a note of condolences from their customer service team to their client's home."
This is an amazing example and proof on how to build an emotional connection with your customers.
Improve your customer experience strategy
Customers change and so should your customer experience strategy. Hence, you will understand where you need to improve and optimize and your work.
But before making a change, don't forget to gather information from your users about your brand or how they feel about your product or customer service.
This will give your strategy a right direction.
Interacting with your customers on daily basis is something you'll need to master. You can also say it is one of the major factors. Companies are using social media platforms to not only interact with their customers but also to understand them.
Like, in the below picture, Zomato didn't reply to one of our team members when she shared her concern about her plastic consumption while ordering from Zomato.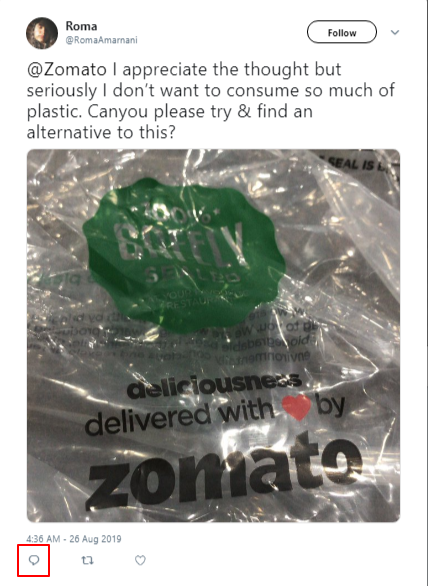 But, on the other hand, you can see an immediate response from Swiggy when other team member of ours shared their concern about the unhygienic pizza and improper customer service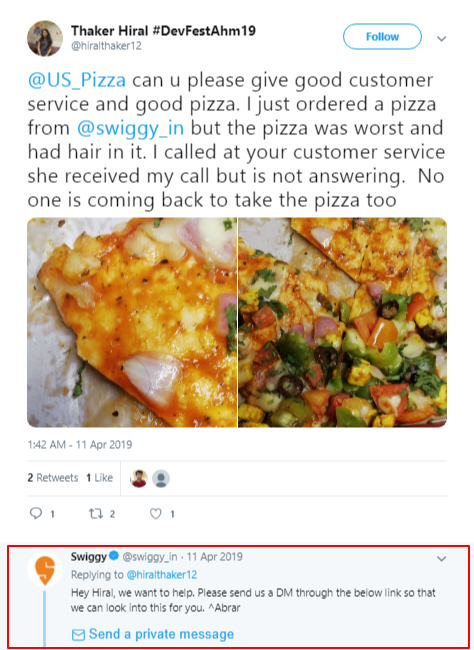 I know the problems addressed here are different but, which brand would you choose? The brand which concerns themselves with your feedback or the brand that ignores you right away.
So, understand the importance of interacting with your customers even when you receive bad feedback.
Final words:
Make sure that your customers are happy because behind the curtains, customers play a vital role in making your company hit or miss.
About Us:
CRMJetty is a hub of innovative customer relationship solutions. Our tools ensure that you can render enhanced interactions at each stage of your customer lifecycle. So, if you are searching for a portal development company, we are here to help you in building the right customized portals. Something that your customers will love. We have served in this industry for a decade and have built many custom portals like knowledge sharing portal, self-service portal, web development portals, etc. Get in touch with us to create customized portals and we'll help you kickstart your journey towards growing with portals.
All product and company names are trademarks™, registered® or copyright© trademarks of their respective holders. Use of them does not imply any affiliation with or endorsement by them.