There has never been a greater time to be a consumer.
Every brand is on its toes trying to nail customer experience for profitability, improved satisfaction, and customer loyalty.
The same goes for real estate.
CX is directly linked to how efficient and streamlined the entire real estate process is from this industry's standpoint.
The more straightforward, quick, and clear the process, the more chances you have to close deals and deliver a great experience.
A real estate portal can help overcome any challenge in the process and easily connect buyers and sellers for streamlined operations.
We have prepared this detailed guide to help you optimize the real estate process. By the end of it, you will get complete clarity on why a real estate portal is the ultimate savior, and why you need one now!
A quick glance at the entire real estate sales process that this post will cover:
Finding Motivated Sellers (The 1st Step)
Verify Documents & Onboard Sellers in Seconds!
An Organized Way to List Properties
Quality Visuals for Confident Purchases
Staging a Property for Quick Purchases
Increase Visibility on Other Platforms
All About Real Estate Valuation
A Streamlined Way to View Property Listings
Negotiating & Closing the Deal
A Quick Overview on How a Real Estate Portal Works
In the most basic sense, a real estate portal is a kind of marketplace where you offer buyers and sellers a platform where they can interact.
Sellers can log in to the portal, create their profile, and list a property. Buyers, on the other hand, can take advantage of smart search options, property tours, etc., to view and buy a property.
If you are wondering how to sell real estate efficiently, you will discover more about the features that can help you manage the real estate process in the coming sections of the post.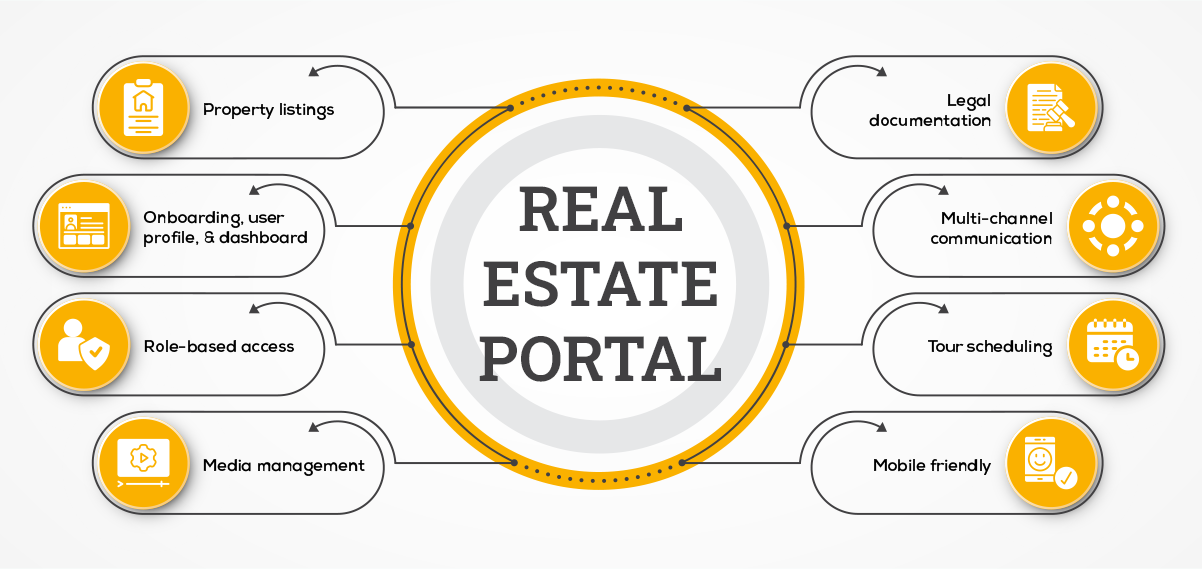 Want to get started with real estate portal development? Click the link below to know all about the features and how to build one!
Finding Motivated Sellers (The 1st Step)
One of the most important steps in the real estate sales process is finding a (motivated) seller.
What's a motivated seller?
These folks are kind of eager with the real estate selling process. They would want to close the deal as quickly as possible.
Typically, there are two definitions of a motivated seller.
One refers to someone who is willing to sell their property at a price below the market value. And second, is someone who has a strict timeline to meet.
Various factors can trigger such a sense of urgency. It ranges from financial crisis to relocation.
Yep, these kind of sellers do sound too good to be true. However, the real estate industry is full of such people, with many agents taking advantage.
Fast closing – the biggest advantage
They also prove to be highly beneficial for the real estate business.
As per stats, your business can grow upto 25x if you have a bunch of motivated sellers ready to list. 💰
This happens because motivated sellers usually do not have the time to go through the elaborate process of contacting multiple buyers, making offers, counter-offers, etc.
Since they prefer to get to the point ASAP, you will find deals being closed much faster without or with very little negotiation.
Ask the right questions
Once you are able to find sellers for your real estate business, it is always the best thing to strengthen the relationship with them by asking the right questions.
Knowing their financial expectations, reasons to sell, and tax and insurance details will help you gain a lot of insights.
Verify Documents & Onboard Sellers in Seconds!
Once you find the seller and establish a relationship with them, property verification and a seamless seller onboarding process come next.
Smooth legal documentation using the real estate portal
Instead of you having to ask individual sellers about their property documents, a real estate portal can smoothen that task.
Using the portal, you can ask sellers to upload property papers, identity documents, and such. The biggest benefit is safety and security.
A real estate portal enables users to carry out a smooth documentation process with security features. They can save and approve property documents and such.
Additionally, you can provide role-based access for enhanced safety. You can create different user groups and roles and let users access information based on their roles.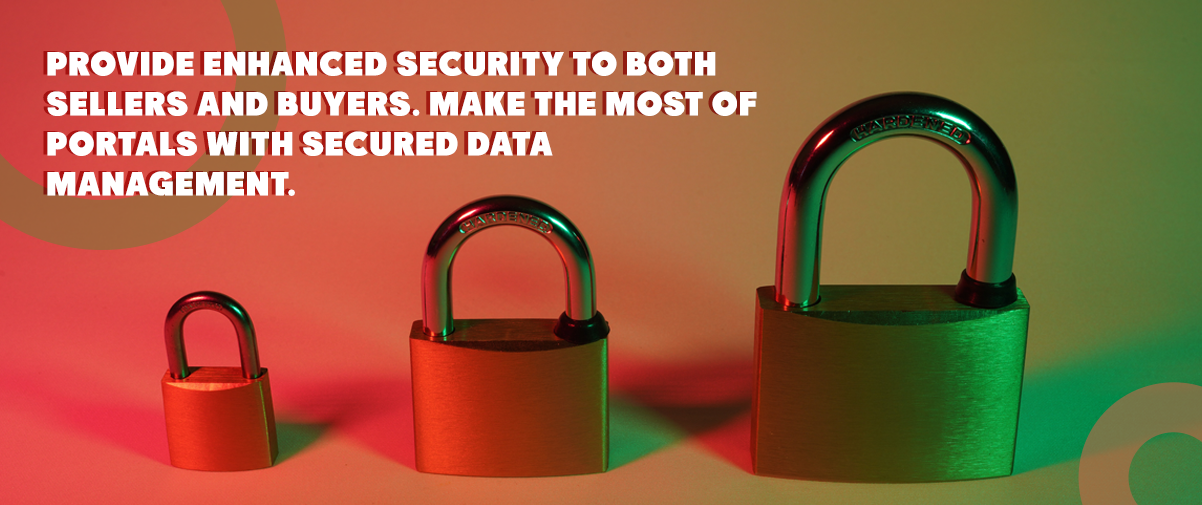 Easy onboarding process
User onboarding is an important stage in the customer journey. A successful onboarding lays a foundation for a successful customer experience.
Hence, it is important to make the onboarding process uncomplicated and seamless for your sellers.
With proper onboarding, you'll be able to streamline and automate tasks starting from initial discussion to deal closing.
Real estate portals have comprehensive user management and onboarding features. Users can join your portal in minutes using a simple sign-up and verification process.
You can let users create and manage individual profiles that include necessary information like name and contact details, property information, etc.
This way, you can personalize the experience for your users and ultimately enhance customer satisfaction.
Build a real estate portal and streamline the sales process for buyers and sellers. Click the link below to understand various features and functionalities in-depth.
An Organized Way for Property Listings
Dealing with multiple sellers, buyers, properties, and tons of other information is a complex task. With the property listing feature of a real estate portal, you ensure a successful real estate sales process.
The portal can help the admin simplify listings. Based on a decided criteria, they can add, edit, delete, or reject listings by brokers, proprietors, or sellers.
More focus on navigation and categorization
Categorization and easy navigation are the two most important aspects when enabling property listing.
The portal that you build for your business should have flawless navigation helping potential buyers easily obtain the information they are looking for.
Keep the menu, information, and CTA buttons fairly straightforward and without any clutter. Such things will contribute to a positive user experience and encourage buyers to move forward.
Second is listing categories like property type, number of rooms, balcony, etc. A well-categorized property listing can help buyers find properties they are interested in more easily and quickly.
Additional revenue stream with featured listing
It all depends on your business requirements whether you choose to charge a listing fee or not. You can also make money by providing premium services. Here, a premium seller pays you a monthly fee to appear on your listing.
Zillow, for instance, lets property seekers look at listings for free. However, it makes money by charging property management companies to advertise their listings on the platform.
Quality Visuals for Confident Purchases
Detailed information and description of a property are great. But imagine describing a huge property with all the furniture to a client.
You need to have different skills and imagination to convey the right information to your potential buyers.
Pictures, on the other hand, are worth a thousand words. They can help prospective buyers get a lot of clarity and gain confidence.
In fact, visuals of the property are one of the first things a potential buyer will look at. Hence, you would want them to be absolutely perfect to offer the best first impression.
The industry is booming with different trends, from augmented reality to virtual tours.
Real estate companies are working on giving their clients an immersive experience to bridge the virtual and the real world gap.
To get started, you can always rely on some very basic things like high-quality images, video tours, etc.; graphics and videos will help users easily browse rather than reading long descriptions.
With the right visual techniques, you can create the best impression in front of potential buyers.
Additionally buyers can also schedule a tour of the property using a real estate portal. Based on their requirements, they can either choose a virtual tour or an in-person tour.
Staging a Property for Quick Purchases
Staging basically means preparing a property for a potential buyer. It involves cleaning, redecorating, re-furnishing, and such.
Staging the property comes with several benefits. It makes a property look ready to move in – something that a lot of buyers are looking for.
As per 47% of buyers' agents, home staging positively affects the home buying process. So, if you are able to convince your sellers to stage their property, that would be great!
However, convincing them is not as easy as it sounds. You can show them the statistics that prove the need to stage a property to solve this. Share success stories with them of other sellers who were able to close a deal.
Increase Visibility on Other Platforms
Multiple Listing Service is the go-to place when it comes to promoting your real estate business. However, that should be the only spot.
The digital landscape is quickly changing, and so should your ways to promote your business. Think beyond the traditional marketing model and consider embracing new technologies and strategies.
Do you know for 42% buyers, online is the first step they take in purchasing a property?
90% of housing searches begin online.🔎
Hence, it is crucial for your business to have a strong online presence. A real estate portal can help you become tech-savvy, and help streamline the process of buying and selling property online.
By building a robust, user-friendly, and feature-rich portal, you can ensure that you remain competitive.
Apart from that, social media is an excellent place to promote your business.
According to the National Association for Realtors, 77% of real estate agents use social media.
Facebook tops the list, followed by LinkedIn and Instagram.
Secondly, with a staggering rise in millennial property buyers, connecting with them makes sense and creating great opportunities for your business.
Once you decide on a platform that best suits your business, figure out how you can market. You can share property photos, client testimonials, new listings, renovation tips, etc.
All About Real Estate Valuation
Setting the price for a property is not just about agreeing to the seller's side. You need to negotiate with the seller and come to an agreement that is a win-win for all parties involved.
So, bring together your experience and knowledge about the market to determine a price.
Comparing prices for neighborhood properties can also assist in making the right decision. Look at properties that are of similar shape, size, amenities, location, etc.
A Streamlined Way to View Property Listings
You have the property listed price ready. Now, it's time for you to make things easy and quick for the buyer.
Portal can help you organize the whole process of property viewing. For example, with categorization, and quick search capabilities, buyers can easily search for properties they are looking for.
You can also simplify navigation by listing properties on a visual map view. This gives buyers a clear idea about the surroundings of the property. They can also know the proximity to schools, hospitals, and such.
A real estate portal can also ease the communication process on multiple channels. Both sellers and buyers can have conversations in real-time with the help of live chat, contact us form, etc.
Negotiating & Closing the Deal
One of the most taxing parts of the real estate sales process is negotiation. Start the negotiation process by qualifying the possible buyer.
Ensure that all the barriers to approving a deal are eliminated—for instance, mortgage, property papers, etc.
Real Estate Portal Development with CRMJetty
We are a one-stop destination for all things portals. For more than 15 years, we have been helping businesses of varied industries, including real estate, to leverage portal solutions.
What helps us build successful solutions is having a personalized approach for each of our clients. Our biggest strength lies in understanding your business logic and customizing accordingly.
Our focus on building a solution with exceptional UI/UX helps you maximize user engagement and boost customer satisfaction.
How We Approach Any Project
The first and foremost step in building a real estate portal is gathering all the necessary information and understanding the requirements.
Our team works to figure out what customizations are needed to create a unique solution based on the requirements.
Once the roadmap is finalized, we share regular updates with our clients. We also provide complete support for maintenance and after-release support.
Over to You!
Our custom portal can help you streamline all real estate sales processes for better visibility and bring more profitability. We can help you launch your real estate portal that fits your business needs. Share your business requirements with us, and we will get back to you.
All product and company names are trademarks™, registered® or copyright© trademarks of their respective holders. Use of them does not imply any affiliation with or endorsement by them.