Self-service is not a new concept. Vending machines, ATM kiosks have been around for a decade. Similarly, websites, forums, chats, and other available information have made everything from banking to shopping and finding answers easier.
With this high level of self-service options, it's no wonder that employees are expecting customer-centric IT self-service portals in their organizations. The challenge is meeting their expectations. In other words, it means having an IT service portal tailored to their needs. Self-service is useful only when it works for customers, and most IT organizations fail to understand this. The solutions they use are often implemented in a hurry.
Here's the secret to implementing a self-service strategy. They are not as simple and straightforward as we expect. Developing an IT service portal requires significant time and effort, and your IT team needs to be in it for the long run. If you're looking to solve your problems overnight, an IT self-service is not the option for you.
On this note, I have listed down a few tips that will help you on your portal implementation journey.
1. Automate the Workflow
The primary purpose of an IT self-service portal is to reduce the workload of your employees. The customers' side should get the answers quickly. On the IT side, they should be free to handle more phone calls and solve complex customer queries rather than answering the same questions, dealing with tedious admin tasks, and solving basic queries.
This is possible only when you automate your self-service solution. Customers should be able to raise the ticket, reset the password, order new IT equipment, or fix a slow working PC without the IT staff's intervention.
Auto-sorting the tickets based on priority and severity levels will help your support staff to work efficiently. Hence, check the workflows you can automate. Even partial automation can reduce one or two tasks of your support team.
2. Look for Configurations and Customizations
One size doesn't fit all. You know this and need to ensure that your IT self-service portal offers configurations and customizations like click-based configurations and code-level customizations. Despite having the same business, every organization is unique, and you will have to choose a solution that meets your customers' expectations. Identify what works for them and what doesn't.
3. Invest in Knowledge Management
Knowledge management is the ability to share ideas, experiences, perspectives in the right place at the right time. If managed well, it can reduce call fix times and incidents, empowering customers/employees.
Knowledge management encourages your employees to use self-service and solve their queries themselves. Hence, you should have a place that creates, approves, uploads new documents, and constantly reviews existing documents, retiring the outdated content. Take inspiration from Evernote. It provides three different sections – how can we help you, browse help topics with top articles listed below.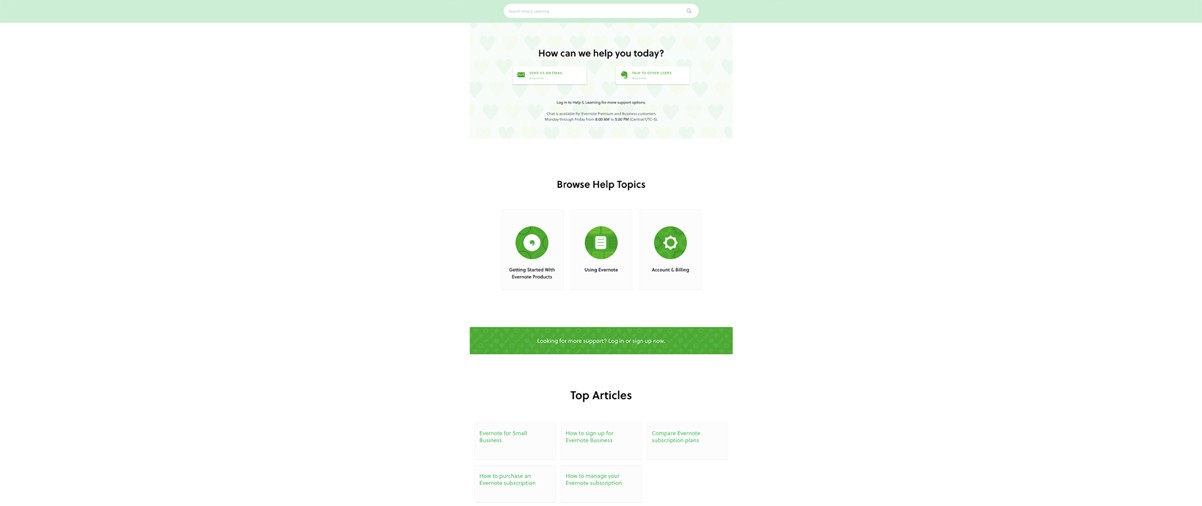 Old documentation that is of no help is an easy way to annoy and alleviate customers who are trying to solve their queries themselves. It makes them understand that they need to contact IT professionals because the self-service won't give them what they require.
4. Educate End-Users
Once you've implemented an IT self-service portal, you can't expect your users/customers/employees to start using it simply. You need to promote and lead them to it. You have to educate them on self-service and how it will benefit them.
For example, say a customer calls the IT desk to raise a ticket. But recently, your organization has implemented an auto ticket generation option that customers can access via the IT service portal. The agent can raise the ticket and then explain how the user can generate a ticket using the portal, guiding them through the steps while on the phone. Initially, it will increase your agent's average call handling time but will benefit you in the long run.
5. Support Mobile Access
It shouldn't matter whether a customer is accessing self-service via desktop or mobile. The experience should be similar on all the devices. Make your IT service portal mobile-friendly so that it's convenient and easy to use. This will help your self-service to reach more customers and increase your self-service adoption level.
6. Never Stop Improving
A self-service approach is not a one-time effort like you will build an IT self-service portal and keep going with it for a long time.
You need to review the self-service capabilities regularly to ensure that they still meet your employees' expectations. Both businesses' and employees' expectations can change rapidly, and your portal should be flexible to adjust according to it.
One way to ensure your portal is meeting your customers' requirements is to ask for feedback. Take reviews to access what they are asking for. Check your self-service data, analyze the usage patterns, and use it to drive improvements.
7. Test with a Pilot Group
No matter how well the self-service solution functions, there may be tethering issues during testing or launch. Hence, when you launch the IT service portal, don't expose it to the entire organization. In the first phase, it may not be suitable to users' expectations. It's not that there will be any problem, but a big project has a lot to consider.
So, create a pilot group that can quickly identify what's working and what's not. They can give suggestions on improvements and features. This way, you can easily make any vital changes before you take your solution in the wild.
8. Look Ahead to Self-Service Opportunities
Don't limit your self-service solution to one purpose. Expand the service capabilities to different departments like HR, facilities, legal, R&D, etc.
For example, an HR department can benefit from the self-help knowledge base, issue logging, and chat capabilities. Hence, look ahead, i.e., plan the delivery of self-service capabilities logically. Think about which department will benefit from what features and build a solution accordingly.
Also, offer other service options. One hundred percent self-service won't be necessary. Sometimes, customers might need the help of an IT professional. In such a case, a call or a live chat would be preferable.
Don't forget to personalize your portal. For that, understand your customers' journey first. Last but not least, choose an IT self-service portal that offers excellent reporting capabilities such that you can get all the insights in one place and even customize the data presentation way.