Every time someone talks about customer experience, the first and foremost suggestion that businesses receive is – deliver what customers want. But each customer may have unique requirements. A few may ask for convenience in shopping while others may prefer quality products. There are different ways to enhance your customers' shopping experience. And yet, the most effective way is to offer self-service. You can achieve that with eCommerce portal development.
This article covers everything about it – definition, features, benefits, tips, and more. So, dig in!
1. What is an Ecommerce Portal
An ecommerce portal, also known as B2B/B2C self-service portal, is an online platform that facilitates buying and selling of products/services with online transactions. It allows businesses to interact with customers and suppliers effectively. eCommerce portal development allows businesses to have one interface shared across the entire business community.
The best examples of eCommerce portals would be Amazon, Flipkart, and other marketplaces that provide customers with a separate space to manage their orders, details, transactions, and more.
Talking about its working, it's more like an eCommerce website where customers can shop and pay. Businesses can display products, manage orders, customers, suppliers from the backend.
Overall, it streamlines the buying process.
2. Benefits of Ecommerce Portal Development
It helps marketers turn leads into sales. To prove it right, here's the result of the March 2020 survey. 10 and 11 percent of distributors and manufacturers generated 80-100 percent of their revenue through eCommerce portals.
Similarly, here are the other benefits of an eCommerce portal development.
a. Streamlining Business Operations with Customer Data
The beauty of a sophisticated eCommerce portal is the customer data it generates. Analytics from an eCommerce portal can help reveal your valuable channels and customers' persona, the products and services they are drawn to.
Data can also help understand patterns around customer experience and engagement levels. For example, you can identify whether customers are abandoning the products at checkout or are facing issues with the fulfillment due to wrong information on the portal.
Moreover, you can offer tailored experiences to your customers based on their needs. You can display products they would be interested in, offer discounts and deals on products they are likely to buy. The collected data will help you improve the effectiveness of your business.
b. Empowering Customers with Self-Service to Reduce Workload
Another major advantage of eCommerce portal development and the must-have in customer service strategy – self-service. Customers prefer self-service, and when you provide them with the exact tools, the results are outstanding.
Self-service helps customers find solutions and other relevant information themselves without waiting for the support team. It also reduces the service cost and time required by your support team to answer basic customer questions. Instead of managing a huge team, automated tools and features like FAQs, knowledge base, chatbots, and communities can be your customers' guide.
Self-service will further improve productivity as the support team can focus on trivial peer-to-peer communication.
c. Increasing Customer Satisfaction and Experience
CX is becoming the key brand differentiator as customers want businesses to deliver smart, engaging, knowledgeable content. For example, up-to-date inventory and stock levels with detailed product descriptions. This information helps buyers decide whether they want to buy products and updates which items are in stock and in what quantities.
Furthermore, digital solutions improve user experience by offering personalization and product recommendations.
d. Reducing Operational Costs with Automation
Integration of eCommerce portal and ERP enables you to have all the sales information in one place. Buyers can view their order status, purchase history and even track orders. You can plan your purchase and production accordingly, reducing wastage and operational and inventory costs.
Notifications, alerts, reminders also help in management, thereby saving you from mishaps. Self-service further cuts down on the customer support team costs.
e. Guaranteeing Confidentiality with User Roles and Permissions
What if every Amazon employee had access to their full CRM data? We can't even imagine this disaster!
Thankfully it has not happened due to the portal and the features it offers. Undergoing eCommerce portal development means locking your CRM with role-based access. It limits the users' access and allows them to access only the authorized information.
Just like the growing customer expectations, the benefits of an eCommerce portal are significant. The right platform will help you with better service, sales, and operational efficiency.
Want to grow more sales? We can help you with a custom portal development
3. Salient Features of Ecommerce Portal Development
In an eCommerce business, effective management and the shopping experience are of paramount importance. Hence here are the features you must include:
i. Personalization
Personalization means offering choices in terms of UI and UX. By UI, it means users should have the same look and feel on all the platforms. For better interaction, they should have the option to customize the design like change color, font, layout, etc.
In terms of UX, it should provide the business logic that your users follow. For example, if they have a query, they should be able to serve themselves with search and ticket generation features. User experience sounds complex, but it all comes down to the convenience you offer to your customers. So think about that and create workflows. You can also add advanced search filters and personalized news feeds for customer engagement.
ii. Bulk, Repeat, and Order Scheduling
Sometimes, your customers might want to make bulk orders or repeat similar orders weekly/monthly. This will clarify which product they need and will help them eliminate any confusion mid-way.
So, bring in automation to facilitate order processing with features like bulk ordering, volume-based pricing, quick reorder, order scheduling, order export before submission, and multiple requisition lists.
iii. Enhanced Search Capabilities
For extensive product catalogs, advanced search capability is a must-have. B2B and B2C eCommerce should provide their customers with the ability to search products from a wide range of products. You have to go beyond SKU search capabilities and allow customers to search products based on name, category, type, price, etc.
Including voice search in your eCommerce portal development would be an added advantage.
iv. Self-Service
Customers prefer gathering information on their own – whether checking the order status or product installation guide. Hence, self-service capabilities are essential. It also reduces your team's efforts. They don't have to be present 24*7 for customers, which is a huge advantage, especially during the festive season when orders keep rushing in.
Self-service lets you focus on orders and delivery, shifting you from the customer queries.
v. Payment Flexibility
Your eCommerce portal should provide multiple payment options. This is because every customer won't have a PayPal account or a credit card. So, for their convenience, it's essential that you provide multiple payment options such as debit card, credit card, virtual payments, net banking, buy now, pay later, etc.
Tip: While adding payment methods, take a survey to know which payment methods are more popular in a specific region.
Multiple options will give customers a choice to pay in a way that's convenient to them. This will further help build trust and strengthen relationships with customers.
vi. Split Shipments and Delivery Management
Shipping and delivery are a USP for eCommerce businesses.
Offer flexible shipping and delivery options that customers want. Like the flexibility to choose delivery date and time, shipping rates, etc. Also, offer split shipments – an ability to split one order for different addresses. For example, if you order four suitcases in one order, you can add a different shipping address for two suitcases and another address for another 2.
vii. Analytics
A smart dashboard with reporting and analytics offers a long-term benefit. It will help you understand how your customers behave and what they need. You can make the most of sales reports, performance reports, sales team performance, etc. With the reports, you will know how to improve sales, interaction with buyers, and the team's performance. They will also help you make sound business decisions.
You can also get insights about your business operations through feedback, questionnaires, heat maps, and more.
These are a few of the standard features that your eCommerce portal should have. Other features that you should include are: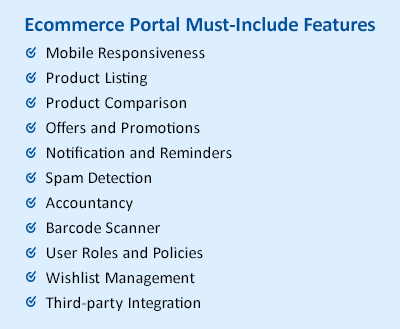 Need help with the features?
4. Tips to Pick the Right Ecommerce Portal Development Company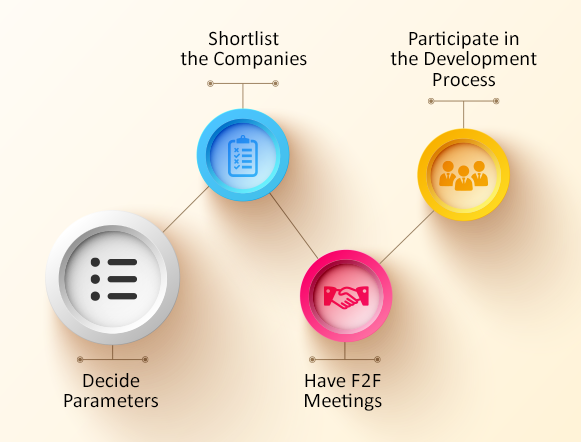 With numerous eCommerce businesses offering similar products and services, customer experience has become the battleground for online stores. It's the primary reason businesses are investing in eCommerce portal development. But before you start comparing the solutions available in the market, you need to check out some factors that affect your choice. They will also guide you in selecting the right eCommerce portal to enhance your customers' experience.
a. Decide your Parameters
It means the factors and features like business type, scalability, pricing and payment, security, integrations, SEO friendliness, customer service, etc.
Define the workflows that you want to streamline. Start with your requirements based on your business type – B2B, B2C, C2C, etc. Next, list down the features and functionalities that you need. As you grow, your requirements may change, and you can't keep switching between platforms. Hence, see if the solution has additional functionalities. Your budget plays a major role. Plan it accordingly and choose an affordable option.
Security, integrations, SEO friendliness again come under the feature list. If you have some specific features and integrations, write them down and share them with the development team. To meet customer demands, customer service is important. And also, what services and features you will offer. For example, knowledge base, community support, self-service, chatbot, etc.
Once you have your plan ready, start looking for the companies.
b. Shortlist the Companies
Of course, you can't shortlist all the portal development companies in your region. So, check their reviews, feature list, client testimonials, portfolio, etc. Read their case studies to know how they have helped their client with specific requirements. Also, request the quotations and then shortlist the companies based on all these factors.
c. Have F2F meetings
Arrange meetings with the shortlisted eCommerce portal development company and share your requirements, including ideas, budget, deadlines, and everything else. Take their inputs, know about their team and how they plan to help you with a custom solution. When everything sounds perfect, go ahead with the development but don't stop there.
d. Be a part of the development process
Participate in Agile meetings and know how the development process is going on. Test features and modules and give your inputs in the design and development. After all, it's your solution. Your customers and team are going to use it on a daily business. The eCommerce portal you develop will define your business success in some way or the other.
So, choose wisely!
5. How CRMJetty Can Help You with Ecommerce Portal Development
CRMJetty can help you with a custom eCommerce portal development that has the best-in-class features to boost customer experience. With that, you also get an advantage of affordable pricing, tech support, portal training, and most importantly, being a part of the development process. We follow the Agile methodology which means you know about every stage of development.
We have been developing custom portal solutions for different industries – healthcare, retail, IT, travel, legal, etc. for more than a decade. So, we can be your safe, affordable, and best choice!
Have your Ecommerce Portal Developed by us!
All product and company names are trademarks™, registered® or copyright© trademarks of their respective holders. Use of them does not imply any affiliation with or endorsement by them.