Sometimes, integrating portals can be difficult. We saw a lot of feedback and questions from customers about the process, so we created a step by step guide on How to Install the Default Portal Add-On for Dynamics 365. But in case you've decided to opt for a third party portal like our Dynamics 365 WordPress Portal, then this blog is for you.
We are going to discuss how to install and enable Dynamics 365 WordPress portal in your CRM.
A quick overview of the Dynamics 365 WordPress portal:
It is a third party portal solution for your business. It helps you provide quality service to your customers round the clock. It makes your team's work effortless.
Let's see steps to install it.
Installation:
To install the 'Dynamics CRM Customer Portal' plugin, the following steps have to be followed:
Step 1: Once you have purchased the plugin, you will get a zip file named DynamicsCRM-Customer-Portal-v3.0.zip.
Step 2: Log in to your CRM Account and click on Settings → Solutions

Step 2(a): If you are using a unified interface, click on the Settings icon which is on the right side of the Title bar. Then click on Advanced Settings.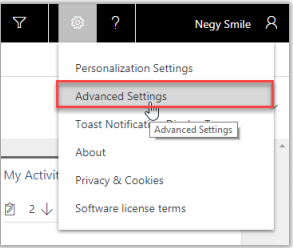 Now go to Settings → Solution.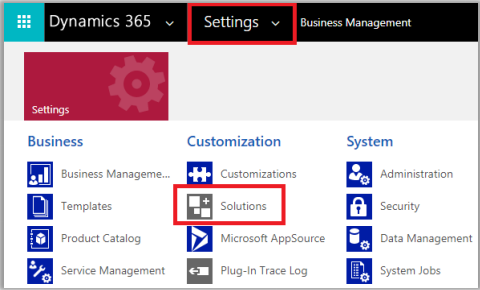 Step 3: Click on 'Import' to upload and install the Solution.

Step 4: Click on the Browse button and choose the Package Zip File for Dynamics CRM Customer Portal from the Import Solution window.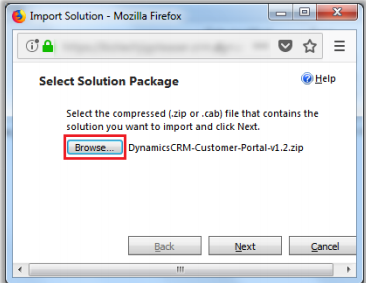 Step 5: Click on Next for further processing.
Step 6: Check the box to enable any SDK message processing steps included in the solution and click on the Import button to import the Solution.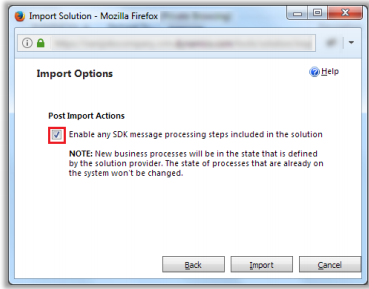 Step 7: Click on 'Close' after the successful completion message is displayed.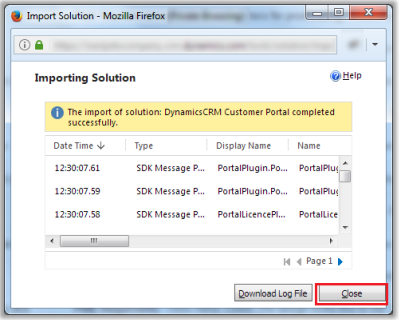 Step 8: Once you import the solution, it will be displayed in the solutions grid view.

WordPress Manual Plugin Installation:
Step 1: To start with the installation, Log in as Administrator into WordPress. Hover on 'Plugins' and click on 'Add New' to install the package.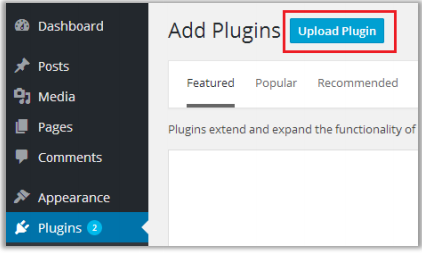 Step 2: To upload the plugin, click on the 'Upload Plugin' button.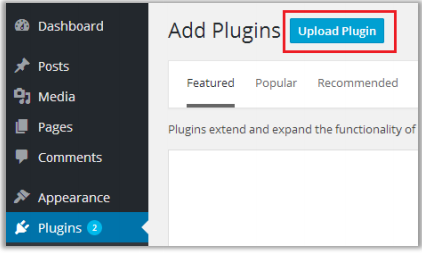 Step 3: Now, click on the 'Browse' button and Browse the zip file. After uploading the package, click on the 'Install Now' button to install the package.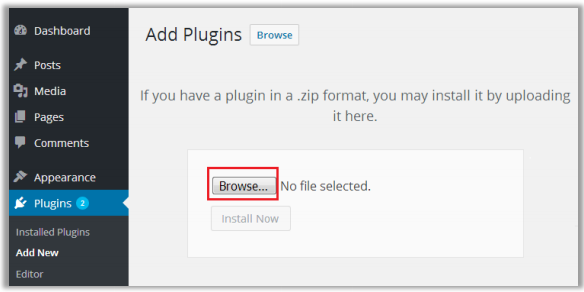 Step 4: Navigate to Installed plugins. Here, you can see "Customer Portal" plugin was successfully installed. But it's still inactive.
Step 5: Click on 'Activate' to activate the plugin.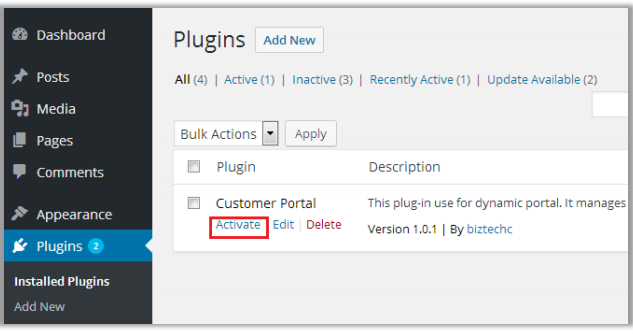 Dynamics CRM Configuration
Step 1: Get the activation key from the Order Confirmation Mail. OR Login to your CRMJetty account then go to downloadable options and copy the activation key for the Dynamics CRM Customer Portal plug-in.
Note: Applicable only if purchased from CRMJetty.
Step 2: Activate your plug-in.
Step 3: Once you import the solution, it will be displayed in the solutions grid view.
Step 4: Double click on 'DynamicsCRM Customer Portal for WordPress' solution to configure the plugin with your license key.
Step 5: This will open up a new window. Click on 'Configuration' from the options provided on the left panel.
Step 6: You can activate your one-month free trial.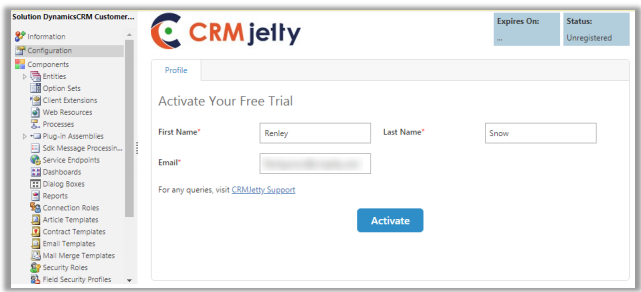 Step 4: To get a one-month free trial license key, fill out the details, and click on the 'Activate' button.

Your portal is ready to use.
Now, talking about Customer portal login:
After configuring the Dynamics CRM and WordPress portal for WordPress Portal plug-in, customers can sign-up or login to the WordPress portal and access Dynamics CRM modules based on the access you've provided.
Dynamics Portal Login, Sign Up & Forgot Password:
Dynamics 365 portal login page
Step 1: Directly login to the portal using your portal credentials.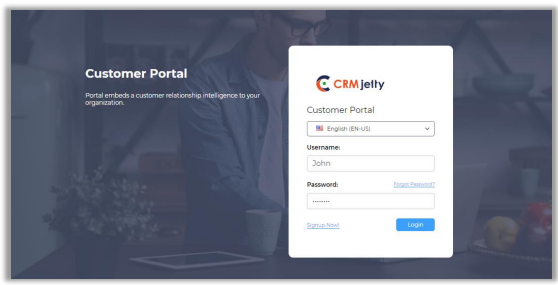 Step 2: If two-step authentication is enabled, then portal users will receive an OTP in email. Enter valid OTP and it will allow portal users to access the interface.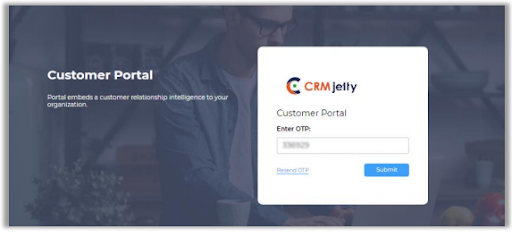 Note: OTP is valid for 30 minutes. If not used in that timeframe then request a new OTP.
Sign Up:
Step 1: New customers can sign-up on the WordPress portal by clicking on 'Sign Up Now!' link on the login page. This link will redirect customers to sign up page.
A new user can directly sign-up from the portal. The credentials will be verified to check whether any customer has been registered with the same username and email address. If any such user does not exist in the system, then a user will be created in the Dynamics CRM Contacts module.
Step 2: Once signed-up from the portal, Users can directly login to the portal and can also access their WordPress account without having to log in again.
Note: Already existing customers on both sides (WordPress and Dynamics CRM) won't get access to the Customer Portal automatically on installation.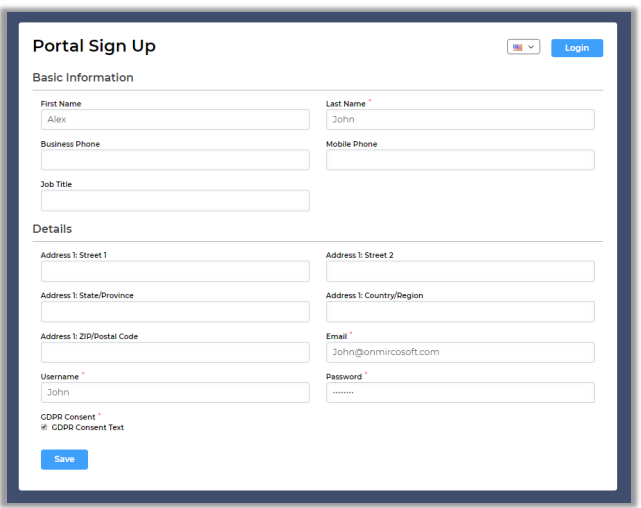 Forgot Password:
Step 1: Portal users can retrieve their login password using the 'Forgot Password' option. Click on the 'Forgot Password' option and enter your username and email address. Click on the 'Submit' button and you will receive a reset password link on your email.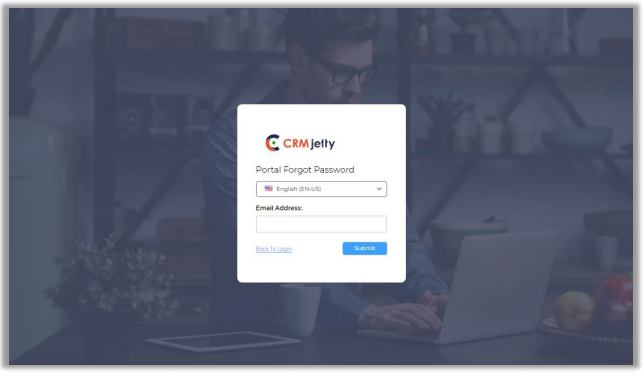 Now, talking about the core features of the Dynamics 365 WordPress portal:
1. Custom Module Support:
Not only custom modules, but our Dynamics CRM customer portal also supports all the default modules as well so that you can share the right information with your customers.
2. Case Deflection:
This feature helps portal users to get probable solutions before generating a case. When a portal user can't find solutions related to any queries or issues, they will be able to navigate to add a case option. Using the search bar they can simply search for their issue and if it is not found they can easily add their case.
3. Role-based Accessibility:
You can create accessibility-based user groups and add contacts to assign specific roles. A Portal User can have access only to the modules that are assigned to them in that specific group. Admin can create multiple groups and add contacts to them.
About Us
CRMJetty is a hub of innovative customer relationship solutions. Our tools ensure that you can render enhanced interactions at each stage of your customer lifecycle. So, if you are searching for the right portal solution for your company, then you can choose from our wide range of solutions for Salesforce, Dynamics, and more. We have served in this industry for over a decade and have built many portals like customer portal, self-service portal, non-profit portal, etc. Get in touch with us and we'll help you kick start your journey towards communicating better.
All product and company names are trademarks™, registered® or copyright© trademarks of their respective holders. Use of them does not imply any affiliation with or endorsement by them.