"Companies that fail to invest in vendor relationship management to analyze risks and prevent failures in the first place lose sales, revenue, and market value."
J.M. Smuckers' Brand failed to invest in vendor management, effective risk assessment, and proper vendor diligence. The result was a failed product and customers' trust, which caused them a loss of $400 million in the market value.
Why do you think it happened? Because of the failed vendor management process. We often think collaboration, knowing vendors, and strengthening relationships do not affect the business whatsoever. However, it helps to know more about vendors and ensure they deliver quality products and mitigate risks.
Vendor management is crucial, but all vendors are not the same. They may have different requirements and might follow diverse processes. Hence, traditional vendor relationship management practices won't be effective. To strengthen vendor relationships, you need to implement a modern and technology-oriented approach.
You need to devise a strategy for managing vendors by considering everything buyers and sellers, products and services, and more.
This article takes you through the aspects you need to consider on the road to better vendor management. It explains the vendor management process, modern approaches, and tools to improve vendor relationships and provide better long-term opportunities.
What is Multi-Vendor Management?
Multi-vendor management is exactly what it sounds like, managing multiple vendors – from selecting the right vendors to outsourcing, gauging quality, evaluating performance, and ensuring on-time payments. When done effectively, it improves communication, streamlines processes, enhances collaboration, and strengthens relationships with vendors on an individual level.
Nowadays, it's done using vendor management tools and technologies such as a vendor management portal, which automates processes and streamlines operations with a centralized interface.
Note: Often, businesses misinterpret vendors and suppliers. They use it interchangeably. But vendors are those who supply goods and services to customers, whereas suppliers supply to businesses. Suppliers are the first link in the supply chain, while vendors are the last in the chain. So, while looking for a vendor management portal, make what you require clear.
Why Vendor Management is Essential?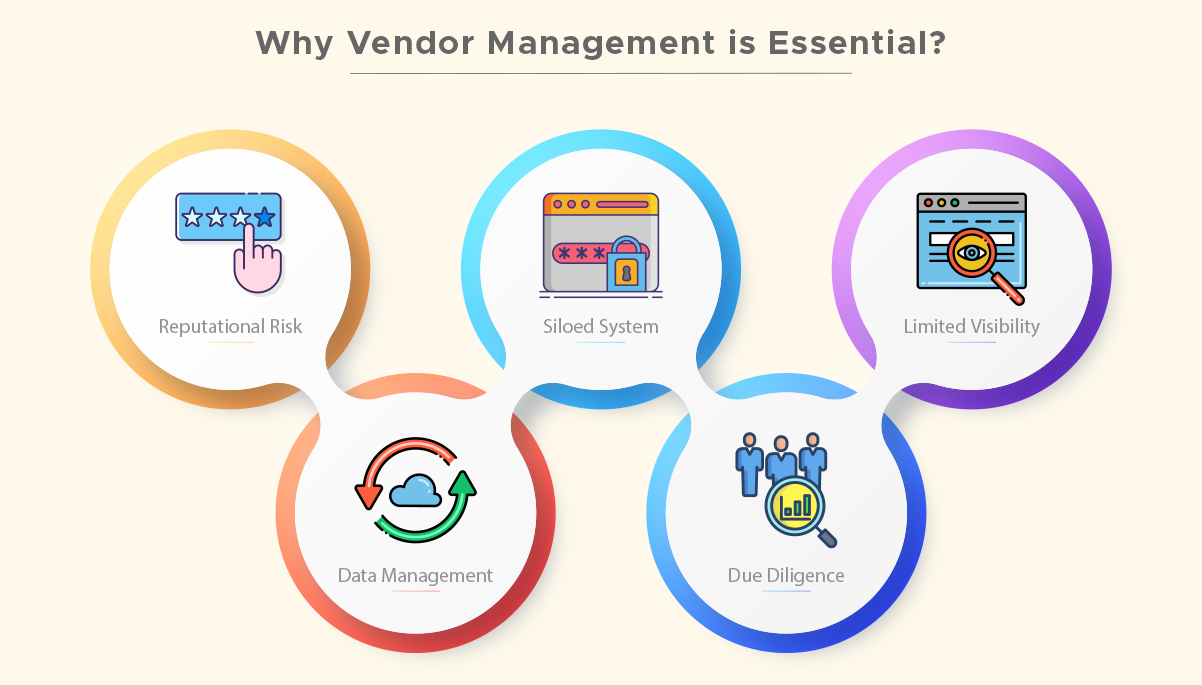 Businesses like yours can maximize their value from outsourcing capabilities by improving vendor relationships. Vendor management bolsters businesses that work on strategic alliances.
Traditionally, businesses didn't have much knowledge about vendors. It was all business. Plus, they didn't have the resources to manage multiple vendors simultaneously. They tracked the records through Excel and handled operations and transactions manually. There wasn't a way to identify the risks and the challenges in the process, including suitable vendors. Take the example of Morgan Stanley, whose poor vendor management exposed sensitive customer data, costing them $60 million.
Vendor management provides a unified interface where businesses can manage all their vendors systematically. Here are the challenges that businesses face and how vendor management helps.
i. Risk Assessment
Businesses fail to understand that selecting suitable vendors is crucial. This is because there's a high risk involved with some vendors that have access to sensitive information or impact customers on the whole. Take Morgan Stanley and J.M. Smuckers from above. They missed evaluating the vendor and the risk involved with it. The cost is customers' credibility, decreased market value, lawsuits, and millions of dollars.
Hence, assessing their profile and identifying if they are suitable for the business. Vendor management covers risk management that helps businesses evaluate and monitor vendors' performance. It helps them set standards for vendors for easy filtration and sort those who are not performing as per the mark.
ii. Due Diligence
Not every vendor may deliver quality or compliance with the regulatory laws and policies. While some may perform well, others may use unethical practices. What does that condone for your business if they employ children for work? It impacts your reputation and may result in losing customers' goodwill and customers.
It is essential to conduct a background check covering their previous employment, financial status, market value, legal and regulations knowledge, operational methods, and risk involved. A vendor management system provides an automated filtering option that removes vendors who don't match the defined parameters, freeing your team to focus on priority tasks.
iii. Outdated Information and Data Storage
Another challenge organizations face with legacy systems is having inaccurate or outdated data. The process that vendors refer to might not be up-to-date. Besides, as businesses expand, data storage is crucial. Storing vendors' information in Excel may result in data loss or tampering.
A vendor management portal provides data storage where you and other organizations like yours can store their vendors' information – profile, inventory, transactions. It can access that information easily without switching between platforms. The vendors can manage their profiles themselves, which auto-syncs with the CRM, helping organizations stay updated.
Updated information entitles organizations to manage their procurement and vendors effectively.
iv. Lack of Visibility
Without a proper management system in place, businesses don't have proper visibility of the vendors and their performance. They don't have any measures to track their work, which ultimately affects their business in terms of poor decision-making.
A vendor management system provides a centralized system that helps track vendors' performance and analyze the end results. It improves visibility, offers transparency, and aids in better allocation of resources.
Stages of Vendor Management Process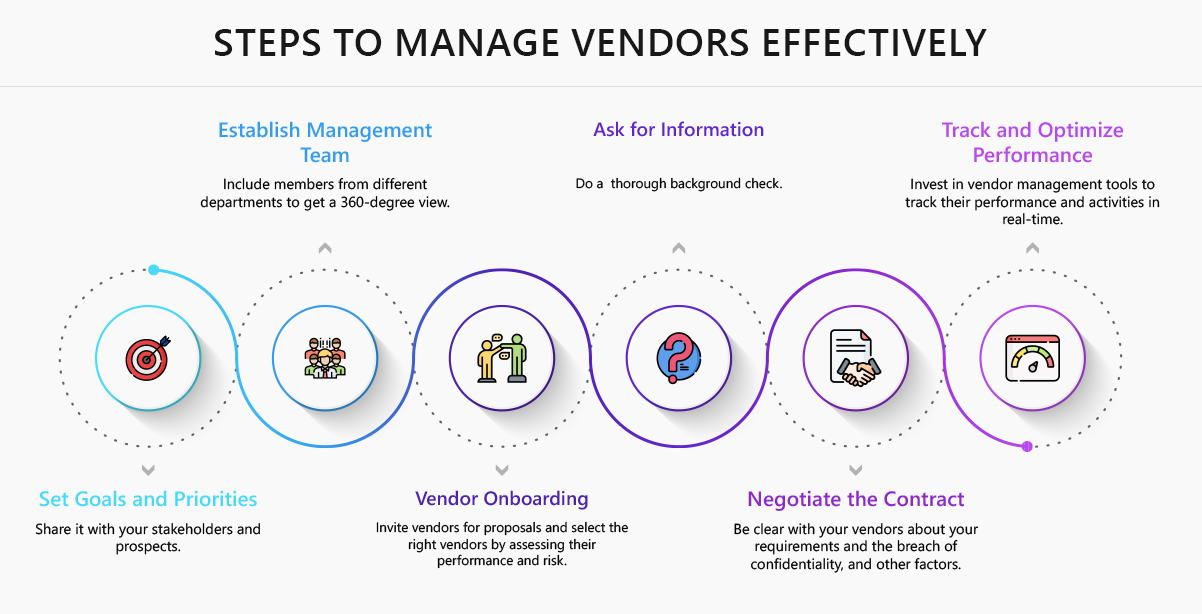 A smooth vendor management process is driven by company goals, KPIs, collaboration, and continuous improvement. To accomplish this, you have to describe the process you would follow, which must be effective.
Every business has its way of managing vendors and getting results. Here's the standard process that you can follow to align with your vendors.
i. Set Goals and Priorities
Set your goal based on the challenges you're facing. Start by defining your KPIs and organizational requirements. It can be related to data storage or performance review. Define your priorities, whether it's enhancing customer experience at present or increasing sales.
With all the KPIs and requirements in hand, send out proposals with your requirements and decide whether the set indicators and the received requests align with your business requirements. This will help you understand vendors' involvement and measure their performance in later stages.
ii. Create a Vendor Management Team
Assign the tasks of managing vendors to a selected few within the organization. Employ them to define KPIs, select relevant vendors, negotiate the contracts, assess risks and vendors' performance, manage transactions, and track the activities.
Ensure that they are skilled enough to manage vendor relationships because they serve as liaisons between vendors and other business departments like human resources. They channel the needs and demands of the vendor.
iii. Identify, Choose and Organize the Vendors
On receiving proposals, evaluate the applications and filter them as per the nature of service and the desired goals. For example, you may need experienced vendors from a specific area or someone who has a better offering. Define criteria and classify the vendors based on criticality, essentiality, and nature of services. Classification helps you evaluate their profile and negotiations individually and decide if they are the right fit for your business. It gives a sense of their importance to overall company goals.
With classification, also assess the risk because critical and high-risk vendors can impact your business in case of vendor relationships or business failure. Ask these questions while selecting and organizing vendors:
Are the business offerings and contract expiry as per my requirements?
Does the vendor have to make any financial transactions on behalf of the organization?
Does the vendor require access to sensitive data to accomplish specific tasks?
Does the vendor comply with the legal requirements?
Is the vendor's offering unique and challenging to find an alternative for?
If the answer is yes to most questions, that's a high-risk vendor. Choose wisely!
Tip: Set indicators for high, moderate, and low-risk vendors.
iv. Conduct Due Diligence
Once you have identified vendors, you know the documents and information required to assess their potential and proceed further with the negotiation. Make sure you, i.e., the vendor management team, ask for all the information, such as financial statements, previous work history, security measures, work methodology, compliances, rules and regulations they follow, etc., especially from the high-risk vendors. It will clarify whether the vendor is trustworthy and capable enough for your business.
v. Negotiate Contracts
After selecting the vendors, it's time to sit with them and discuss the contract. Know about their offerings and see what you can offer them. Discuss the terms and conditions of the contract. Follow standard policies and procedures for negotiation and outline the roles and responsibilities of vendors. Address confidentiality, disruptions, compliance, rules and regulations, financial aspects, business continuity, security, frequency of reports, contract updates, etc.
Clearly state the consequences of breach of confidentiality. Establish a secure mail address for both parties.
vi. Manage and Monitor KPIs
Constant monitoring is essential to get clarity of vendors' operations, vulnerabilities, and other risks that could affect the business. Hence, after partnering with vendors, start monitoring their performance. Track their activities, assess the risk, identify the loopholes, and whether they comply with the rules and regulations.
Implementing Strategies to Strengthen Vendor Relationships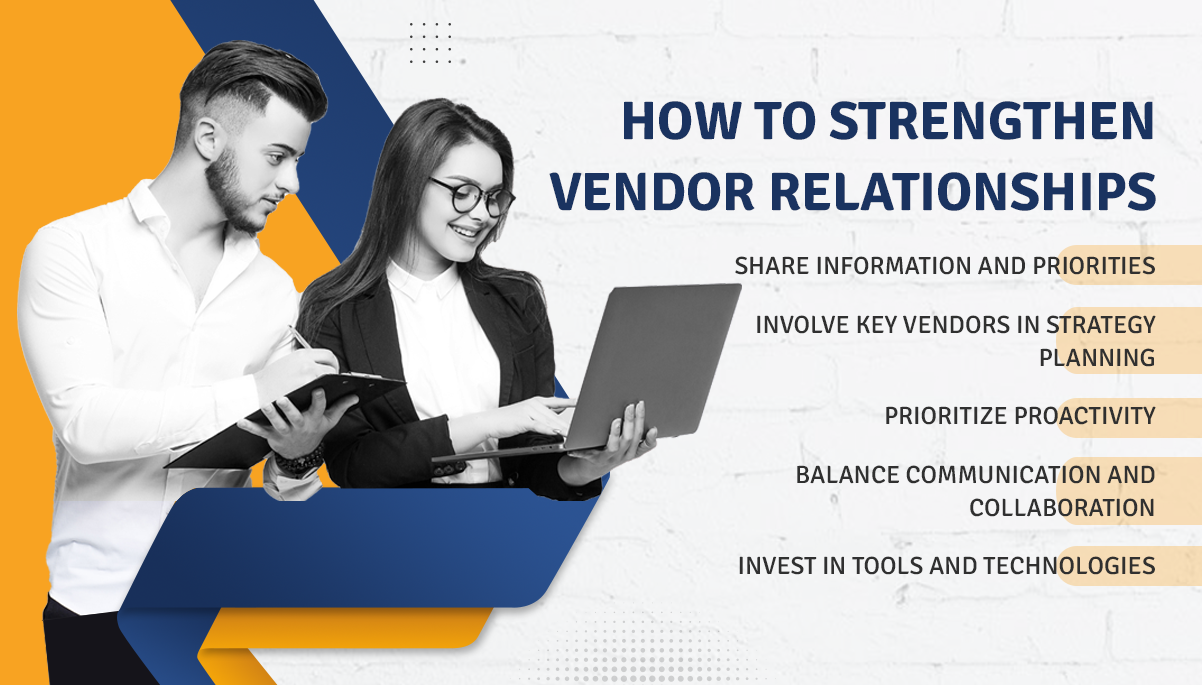 Most businesses think that selecting vendors is enough to get value in their industry. The end result of vendor management is to build vendor relationships that strengthen businesses and provide a competitive edge, which requires proper strategy with tools and techniques to build long-lasting relationships.
You can build value, reduce risk, and improve vendors' performance with a few best practices. Let's see what those are:
i. Share Information and Priorities
The key to better vendor performance is to share crucial information with them. That doesn't mean sharing the entire database with them.
Vendor management practices share only the correct information with vendors at the right time to serve your needs better. It may include forecast information, product launches, design, expansion, or relocation changes.
ii. Involve Key Vendors in Strategizing
If vendors supply key services to your business, involve them in strategy meetings on the products/services they are working on. Know that you involve them because they are experts in their field and could help make products and services better.
iii. Prioritize Proactivity, Communication, and Collaboration
One of the important characteristics of vendor relationships management is to rehabilitate rather than replace vendors who help businesses reach their goal of sustainable procurement. A collaborative approach with streamlined communication and proactive support not only bridges the gap between vendors and businesses but also streamlines and optimizes the processes. It helps brainstorm ideas and identify how businesses can create maximum value from their partnerships.
iv. Set the Stage for Digital Technologies
Eliminating waste, minimizing risks, and cutting costs are the initial stages of vendor management. By investing in digital tools like a vendor portal, you can turn your vendors into partners who share your goals and success.
A vendor portal provides central management of vendors' profiles, invoices, activities, sales figures, performance, etc. You can capture, analyze, and review vendors' performance in real-time. Besides, you can automate several aspects of your vendor management process like vendor onboarding, automated proposals, notifications, document sharing like certificates, affidavits, compliance policies, and more.
Investing in tools like vendor portal gives you access to automation and data management that helps you track your vendors' performance and aligns vendors' and internal stakeholders' activities with your business goals.
Vendor Relationship Management with Portal – How?
A vendor portal provides features that help you reduce your staff's workload while empowering your vendors to manage their activities themselves.
It drives efficiency with features like:
i. Online Registrations
Invite vendors and suppliers to be a part of your global network without hassle.
ii. Auto-filtering of Applications
Get rid of the manual filtration by providing functionality that automatically filters applicants based on the set criteria.
iii. Quotes and Proposals Management
Allow different vendors to share their proposals and requests via a secure login without you having to ask for it.
iv. Vendor Comparison
Evaluate the vendors automatically based on their previous experience, contracts, and overall work history.
v. Automated Ranking
Rate vendors' profiles by defining certain indexes based on history, compliance, delivery time, performance, risk, etc.
vi. Invoicing and Payments
Generate and share invoices and purchase orders directly from and through the portal.
vii. Role-based CRM Access
Let vendors view relevant information in the CRM based on role-specific access.
viii. Mobile Responsiveness
Allow vendors and other stakeholders to work from anywhere via a mobile phone.
Role of CRMJetty in Vendors Management
We can help you develop a vendor management portal to ensure your vendors deliver maximum value to your organization. From self-service to automated workflow and additional features, we can develop a custom solution that consistently delivers efficiency, visibility, and vendor satisfaction.
Vendor relationship management is about balancing the human side of the business with the convenience that technology offers. We understand this and ensure that the portal provides the best of both.
All product and company names are trademarks™, registered® or copyright© trademarks of their respective holders. Use of them does not imply any affiliation with or endorsement by them.