Affiliate marketing has become a cost-effective way for businesses to promote their products and stores. Small and big businesses are benefiting from this revenue based model. It is expected that affiliate marketing spending will cost $8 billion by 2022. It has evolved from online stores and websites to traditional pharmaceuticals.
Affiliate marketing helps businesses build customer trust and gain recognition over new brands. However, running an affiliate program is a big task. You need to recruit affiliates, set up commissions, and make payouts. An affiliate portal can simplify the process. With automation and self-service, it will not only help save time, but also make your program efficient and effective.
This article will explain all about it. Let's first understand the core challenges of affiliate marketing.
Affiliate Marketing: Purpose and Challenges
Affiliate marketing refers to promoting others' products and services in return for commission. To run that affiliate program, businesses need to recruit affiliates that will help them in promotion. They then have to set up the commission rates and the payment policies and once affiliates reach the minimum payment level, you need to send them payments.
There are various benefits of affiliate marketing such as wide audience, customer trust, improved SEO, more revenue, etc.
Reach Wider Audience

Your affiliates have followers who trust them and look forward to the content they provide. If they have followers from different regions, it benefits you. Your brand will be known to people outside your country. So, even if your product doesn't get a hype in local markets, with influencer marketing, it can do wonders in the international market.

Improve Website SEO

If you know about SEO, you know the importance of backlinks. Backlinks direct users to your websites and help improve your online presence. It affects the ranking metric. Affiliates do it smoothly. They provide organic backlinks to your store, making it easier for you to appear on Google, Bing, and other search engines.

Get High Return on Investment

Initially, you don't have to invest much in affiliate marketing. A few freebies to your affiliates to try and promote your product and that's it. If you choose expert affiliates who have better knowledge of industry and a huge following, you'll make more profits.
Affiliate marketing also saves costs and time while targeting the right audience. It's a flexible marketing tactic that works in the background and yields results. But as said, implementing it can be complicated. Here are the challenges that brands have to face.
Challenges in Affiliate Marketing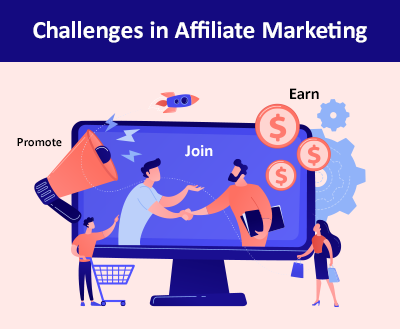 Fraud Challenge
As the affiliates increase, it becomes difficult to track their performance and sales. Sometimes they might have queries and want to reach out for solutions. While managing everything, you may not be able to answer them in a stipulated time frame, leading to conflicts. Since you don't have a centralized solution, exchange of documents and resources can be challenging. You may have to send separate invoices to each and every affiliate.
Traffic Challenge
The biggest challenge of affiliate marketing is finding the right affiliates. As your affiliates will not only promote products but also provide valuable information to the customers (their followers). When there are so many affiliate partnership requests across different channels, it becomes difficult to validate them all. Without proper validation, hiring the right person can be challenging. You may end up with affiliates that are not well experienced and have no knowledge about your niche.
Brand Message Connection Challenge
On some occasions you might have affiliates with huge follower count. But what if they are not able to connect the product to your brand? Maintaining brand image is important as it builds customer trust and loyalty. Most of the time customers associate products with the affiliates. Affiliates with inappropriate behavior and incapable of delivering the right message can cause severe repurressions to the business. Hence, it's essential that you deliver a proper message and specify the qualities of the affiliates.
Rewards and Commission Challenge
Marketers are always at a risk of affiliate marketing as the conversion rate is usually between 1 to 5 percent. In that stress, you need to manage all the rewards, discounts, and affiliate commissions, which is time consuming. If you don't have a proper system to manage payments and rewards, it may cause issues. Delay in payments and commissions can lead your skilled affiliates to leave your affiliate program.
System Challenge
Another reason why your affiliate marketing strategy fails is that the system you use doesn't meet your needs. Sometimes you may not even have a proper system in place to manage and maintain security. Illegal ways of earning commissions have risen. There are a lot of fraudsters who may share fake links, plagiarized content to drive traffic to their sites. This may create a negative impression of your brand and affiliate program.
Apart from all these, businesses also have to deal with ROI challenges. But as every problem has a solution, you can tackle affiliate marketing challenges with affiliate portal development. An affiliate portal provides a dynamic solution that helps organizations streamline their engagement with affiliates. Let's learn more about it in detail.
Reasons to Undergo Affiliate Portal Development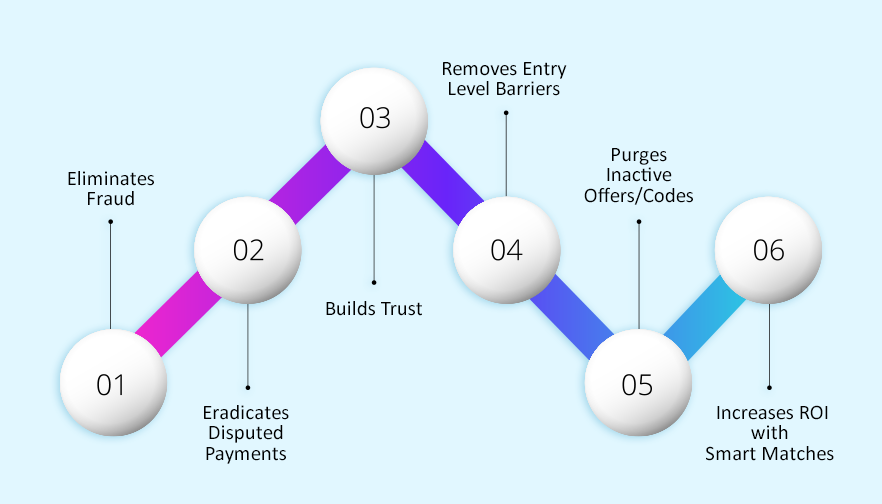 It helps manage affiliates who have a small role in the business but a major role in sales and conversions. Besides, there are no safety concerns with affiliate portals. If you manage your affiliates with CRM or ERP, all the data loads into your business software. For your affiliates to handle their activities and track rewards, you need to explain about your business software and give access to it. This can be a security concern. With a portal, you and your business are safe.
Here are the other benefits you can leverage with affiliate portal development.
Eliminates Fraud
You might have experienced redirecting to malicious accounts. While managing affiliate programs, you and your partners have to keep a track of such links through daily, weekly, and monthly reports. Managing it manually is quite confusing.
Hence, the portal helps track every click. It stores all the data in one place and provides merchants and partners with complete detail of click and redirection. It includes – how many users were redirected, how many reached them, what they purchased, etc.
Eradicates Disputed Payments
Tracking the lead count and paying commission to affiliates sounds easy. But it's complex and tricky. A single mistake in the calculation can cause disputes between you and your affiliate partners. For example, the leads generated through their coupon code were 10 and your messed up system failed to track one or two leads. You can't even imagine the chaos it can create.
Take inspiration from eBay on affiliate commission planning. Their affiliate program competes with Amazon, offering commission between 40 to 80 percent.
Well, the portal maintains transparency. It works on automated processes and enables you and your partners to track every click. The data auto syncs with the CRM so that there are no disputes over payments or lead counts. Payment history and lead path also helps keep everyone confusion-free.
Builds Trust
Job frauds are common. You might have heard stories about people getting scammed into paying a specific count for a job at reputed companies. The same is the scenario with affiliate programs. One of the four redirects in the affiliate marketing industry is fake. Affiliates are confused whether the traffic they are redirecting to a specific website/store is genuine or not. Also, if they will get the commissions for their efforts or not. You need to make your affiliates trust you, only then your customers will.
Portal reflects that professional brand image. It stores data, improves efficiency and makes everything visible and traceable in real-time for affiliates to gain their trust. Since, affiliates can manage, track, and view all the data from one specific place, they are likely to trust you. Plus, the system triggers credit activity as soon as the affiliate completes their target, ensuring the affiliates get paid on time with no human intervention.
Removes Barriers to Entries for Small Businesses
Businesses often manage affiliates with CRM or ERP, which is a bad idea because they have to pay thousands of dollars for sign up and licensing. It becomes unbearable when the monthly recurring fee comes up. This is why small businesses don't opt for affiliate marketing, though it's a cost effective option to grow their business and reach a wide audience.
They need a solution that can remove this licensing fee barrier and that's when an affiliate portal comes in. Portal offers one time or monthly recurring licensing fee for the entire solution rather than per user. With no extra cost, you can provide a separate login area to all your affiliates. This removes the entry barrier for small businesses helping them create a collaborative environment in their business.
Purges Inactive Offers or Voucher Codes
The most common problem in managing affiliate programs are the number of broken links or expired voucher codes. Sometimes, you even end up providing the same links to multiple affiliates. This happens because you don't have a streamlined automated system to manage affiliates and the parent website.
However, you can use the portal to send alerts and notifications to your affiliates informing them about the latest offers and deals. You can notify them to remove the expired links. Affiliate portal can also automatically remove expired links and coupons and disregard the leads associated with it. It auto-generates unique codes and links and assigns it to the affiliates. Moreover, it tracks every activity related to that link and ensures no two affiliates get the same link/code.
Increases ROI with Smart Matches
Affiliates help generate traffic and leads for your business. But to know whether you're meeting your goals or not, you need to know the affiliates' performance. A normal system may not provide you with the detailed reports on affiliates performance. As the affiliate portal's primary purpose is to manage affiliates, it gathers all the data related to them and provides detailed insights about their performance and activities.
The dashboard provides you a complete overview of their performance like the number of leads they have generated, which product got more traffic and where it came from, and so on. This detailed information further helps you create smart matches. For example, a lifestyle blogger was able to redirect more traffic to a specific type of shoes, you can ask them to promote your other shoes. The collected data will also help you generate better recommendations for affiliates and customers, which will improve relationships and drive ROI.
Core Features of Affiliate Management System
The benefits that affiliate portal provides are all thanks to its features. This section looks at some of those features.
Centralized Solution

To manage affiliates, their onboarding and proposals. Affiliates can send their proposals and you can evaluate those and select the best suited ones for your business promotion. They can manage their profiles, share requests, upload documents, and track their activities from their separate log-in area.

Custom Links Management

Affiliates can manage their links, see their promotional codes, texts, banners in the menu. They can even customize links and map it to create their identity.

Reward Management

Create tiered based commissions, provide free merchandise and offers to your affiliates on successful target completion. This section helps you retain your affiliates with rewards and offers. Here you can find every detail related to the offers and bonuses you gave.

Channel Management

This feature improves your collaboration with the affiliates by streamlining all channels. To ease communication, you can further launch news feeds. For example, enable Twitter feeds to keep affiliates informed about the company updates, including offers and updates.

Performance Tracking

You and your affiliates can track performance. Get an overview of all the customers that come to your site through an affiliate and make a purchase.

Invoicing

List orders and revenues your affiliates generate and set up invoices to streamline payment processing. Provide itemized bills with a complete list to give better clarity about where the commissions are coming from and how offers are being associated.
Tips to Manage Affiliates and Grow Business
Though features will help you increase efficiency, they alone won't be enough. There are some ways you can use these features to get the best results.
Customize Dashboard View
The first thing your affiliates see when they log into the portal is the dashboard. They rely on it to view information about the commissions earned, leads generated, suppression lists, and compliances. However, not everyone would like to view it in a similar format. So, let them customize the dashboard view. For default view, make sure it consists of referral link, alerts, top offers, bills, news feed, etc.
Provides Affiliates Valuable and Recent Details
An affiliate portal provides a knowledge base where users can access everything but ensure that the content is updated and relevant. Avoid ambiguity, cover step-by-step tutorials, and write in simple language for customers to understand. Make your articles SEO friendly and invest in media elements to improve quality. Don't forget to edit and proofread.
Keep Security your Priority
Security is crucial for affiliate management as with the growing number of affiliates, the higher will be the required customer links. Hence, ensure that affiliate portal provides better security by auto-generating a custom link for new affiliates. It should limit access to portal users based on their roles and rights. Use two-factor authentication for an extra layer of security.
Make your Portal Multi-Everything
Setting multiple languages and currencies help you expand in new markets and reach a wide audience. You can choose to set the currency and language of the portal depending on your location or region. Or you can provide a feature that auto sets the portal's language and currency based on the location. This will let you partner with affiliates in different regions and promote your business.
Equip Detailed Insights
Equip your portal with detailed insights to improve performance, optimize campaigns, and boost productivity. Add all the specific reports such as daily summary, campaign summary, affiliate summary, conversion report, click report, etc. Track event performance and provide additional details such as price format, payout, rule targeting, etc. with offer contracts. Most importantly, enable the timezone filter. Allow affiliates to view accurate reporting in their timezone.
Go for Custom Affiliate Portal Development
Every business has unique needs and specific problems. A custom developed solution meets your business requirements. It lets you add the features and plugins that are essential for your business. Most importantly, custom affiliate portal development helps you get access to technical support and maintenance.
How We Can Add Value
CRMJetty can be your best development partner. We can help you develop a custom affiliate portal with features such as online registrations, invoice management, performance management, knowledge base, enhanced security, and more.
We also provide custom update services such as repair, bug-fixing, migration for your existing portal.
All product and company names are trademarks™, registered® or copyright© trademarks of their respective holders. Use of them does not imply any affiliation with or endorsement by them.